New Recruit MBAs Attitudes

(Executive Brief with Lopamudra Ray, Keya Gupta & Deepika Lingala)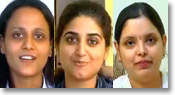 This video case study triggers an interesting discussion over individual attitudes, which play a major role in shaping employee behaviour at workplace. This case study is meant for discussing the concept of attitudes in the Organisational Behaviour course. With regard to the same, individual attitudinal problems faced by three executives is showcased through this video – Lopamudra Ray (Lopamudra) and Keya Gupta (Keya), MBAs who were campus placed with a search engine marketing company in 2008; Deepika Lingala (Deepika), an engineer with an MBA degree, was working as the senior account manager, with a search engine marketing company.
The first part of the video case study showcases the individual attitudinal problems faced by Lopamudra and Keya in their first jobs. Working as account managers with a reputed search engine marketing organisation, both faced major attitude problems within a short span of joining the company. Realising the serious implications of these attitudinal discrepancies, Lopamudra and Keya were forced to take a call. The second part of the video case study highlights the attitudinal clash faced by Deepika, post the performance review held by the senior management. She was aware that this attitudinal disagreement, if allowed to persist, would unleash serious performance problems within the organisation. Realising that influencing and changing someone else's attitude was not an easy ordeal, Deepika was faced with a daunting task.
Pedagogical Objectives
To discuss how an individual's attitude can effect his/her work behaviour – especially in the light of the first two executives shown in the video case study.
To discuss and debate on how a manager, when faced with an 'incorrect attitude' from some of his/her reportees, should go about changing their attitudes in the light of the third manager's dilemma featured in this video case study.
To relate all the three managers' behavioral underpinnings to the concepts related to attitudes – what are the main components of attitudes (cognitive, affective, behavioral); how consistent are attitudes (cognitive dissonance); does behaviour always follow from attitude (moderating variables, self-perception theory).
This Executive Brief is best suited for:
Organizational Behavior Course:

How does an individual's attitude effect his/her behaviour at work – especially for individual's entering the corporate arena for the first time
Are attitudes consistent?
Does behaviour follow from attitudes?
Dilemmas in scaling up the operations – what should be the new role of the CEO of a company well into four years of its successful operations?
Part I: Executive Brief on Attitudes
Nature: Sample
Duration: 2:59 min
Part II: Executive Response on Attitudes
Nature: Sample
Duration: 2:57 min
Executive Brief Details
Title : New Recruit MBAs Attitudes
(Executive Brief with Lopamudra Ray, Keya Gupta and Deepika Lingala.)
Prepared By: Vara Vasanthi, Deepti Srikanth.
Released Date: 26th May, 2009.
Price : $ (2000 INR) c
**This pack consists of Executive Brief, Executive Response and a Teaching Note.
Other Executive Briefs