Browse Executive Interviews
By Subject
Publishing Year
Publishing Year
Interview with Deborah Kolb on Women Entrepreneurs
January 2008 - By Dr. Nagendra V Chowdary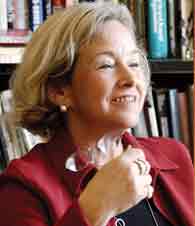 Deborah Kolb is the Deloitte Ellen Gabriel Professor for Women and Leadership and a faculty affiliate at the Center for Gender in Organizations at the Simmons School of Management. From 1991-1994, Kolb was Executive Director of the Program on Negotiation at Harvard Law School. She is currently a Senior Fellow at the Program where she codirects The Negotiations in the Workplace Project. Professor Kolb is an authority on gender issues in negotiation and leadership, like how women can negotiate the conditions for their own success at the same time as they contribute to the effectiveness of their organizations.
| | |
| --- | --- |
| Kolb has co-authored several books on this subject. Everyday Negotiation: Navigating the Hidden Agendas of Bargaining (Jossey-Bass/ John Wiley, 2003) shows how women (and men) can become more effective in their everyday negotiations by attending to the dual requirements of the shadow negotiation—advocacy for oneself and connection with others. Originally titled, The Shadow Negotiation, Harvard Business Review named it one of the 10 best business books of 2000 and it received the best book award | |
from the International Association of Conflict Management at its meetings in Paris, 2001. Her new book Her Place at the Table: A Women's Guide to Negotiating the Five Challenges of Leadership Success describes how successful women negotiate for what they need to be effective in leadership roles at all levels of an organization. Kolb publishes extensively on these topics and regularly presents her work to national and international audiences. Among other firms, Kolb has recently worked with Campbell Soup, Credit Suisse First Boston, Deutsche Bank, Deloitte and Touche, Eli Lilly, EMC, W.L. Gore, IBM, JP Morgan-Chase, Nationalgrid, Phillips Medical, PricewaterhouseCoopers, Time Inc. and Verizon. Non-profit organizations she has worked with include: The Ford Foundation, The Consultative Group in International Agricultural Research (CGIAR), Girl Scouts, USA, The Society for Human Resource Management, Financial Executives International, Financial Women's Association, the Mayo Clinic, Network of Executive Women, and Women in Technology International among many others. Dr. Kolb is a principal in Negotiating Women, LLC., a company that provides negotiation, training and consultation especially designed for women. Kolb has been affiliated with the, Patriot's Trail Council, as a board member, vice president and president (2001-05). In 2006, she was awarded their Leading Woman Award.
Professor Kolb is also the author of The Mediators (MIT Press, 1983), an indepth study of labor mediation. She is co-editor of Hidden Conflict In Organizations: Uncovering Behind- The-Scenes Disputes (Sage, 1992), a collection of field studies about how conflicts are handled in a variety of business and not-for-profit organizations. She is the editor of a study of the practice of successful mediators, Making Talk Work: Profiles of Mediators (Jossey-Bass, 1994) and of Negotiation Eclectics: Essays in Memory of Jeffrey Z Rubin (Program on Negotiation, 1999). She has authored over 100 articles on the subjects of gender, negotiation, conflict in organizations, and mediation. Kolb is on the editorial boards of the Negotiation Journal, the Journal of Conflict Resolution, and the Harvard Negotiation Newsletter.
Deborah Kolb received her Ph.D. from MIT's Sloan School of Management, where her dissertation won the Zannetos Prize for outstanding doctoral scholarship. She has a BA from Vassar College and an MBA from the University of Colorado.
He can also be reached at deborah.kolb@simmons.edu
Useful for Understanding of:
Negotiation Skills
"Glass Ceiling" and Coporates' Initiatives to Reduce it
Gender Discrimination
Women Entrepreneurs
Women Executives' abilities as managers and leaders.
| | |
| --- | --- |
| Originally Published in | Effective Executive, IUP |
| Effective Executive Reference No. | 03M-2008- 01-13-06 |
| IBSCDC Reference No. | INT0058 |
| Year and Month of Publication | January 2008 |
| Keywords | Deborah Kolb, Negotiation Skills, "Glass Ceiling" and Coporates' Initiatives to Reduce it, Gender Discrimination, Women Entrepreneurs, Women Executives' abilities as managers and leaders |
1. Women Entrepreneurs Case Study
2. ICMR Case Collection
3. Case Study Volumes