Executive Interviews
on Leadership
on Change Management
on Global Strategy
on Corporate Entrepreneurship
on Multicultural Teams
on Family Business
on Strategy Execution
on Collaboration
Executive Interviews: Interview with Shahnaz Hussain on Women Executives
July 2007 - By Dr. Nagendra V Chowdary

---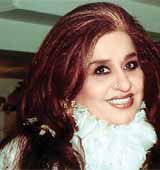 Shahnaz Hussain
Pioneer and Leader of herbal care in India
She is also a pioneer of Vocational Training in Cosmetology in India.

| | |
| --- | --- |
| The positive side is that times are changing. But even now women can find it impossible to reach the top level position, inspite of being qualified and able to do so. In effect, they are looking through a glass ceiling. It is due to the gender bias and the difficulty in occupying top managerial positions, that educated and enterprising women are setting up their own businesses. Although this is a positive trend, what we need to work at is to continue the struggle to be recognized as equal partners byman. The woman herself has to realize that she must leave some traditional values behind and embrace new ways of life. Only then, will women get equal opportunities. Today, the doors from the kitchen to board - | |
rooms are open wider than ever before, but women still continue their search for recognition as being equal contributors to every aspect of life. The gender equation is not about seeking superiority, but of establishing equality. To balance the gender equation, we need to seek equality in society first and this is bound to reflect in all other fields.
1. Women Executives/CEOs Case Studies
2. ICMR Case Collection
3. Case Study Volumes
---
The Interview was conducted by Dr. Nagendra V Chowdary, Consulting Editor, Effective Executive and Dean, IBSCDC, Hyderabad.
This Interview was originally published in Effective Executive, IUP, July 2007.
Copyright © July 2007, IBSCDC No part of this publication may be copied, reproduced or distributed, stored in a retrieval system, used in a spreadsheet, or transmitted in any form or medium – electronic, mechanical, photocopying, recording, or otherwise – without the permission of IBSCDC.
Related Links
Related Case Studies
Useful links