Executive Interviews
on Leadership
on Change Management
on Global Strategy
on Corporate Entrepreneurship
on Multicultural Teams
on Family Business
on Strategy Execution
on Collaboration
Executive Interviews: Interview with Shahnaz Hussain on Women Executives
July 2007 - By Dr. Nagendra V Chowdary

---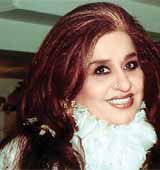 Shahnaz Hussain
Pioneer and Leader of herbal care in India
She is also a pioneer of Vocational Training in Cosmetology in India.

| | |
| --- | --- |
| I also adopted a highly successful method to promote the newfranchise salons. I made it a point to attend their opening. I addressed press conferences, where I spoke on the benefits of herbal care. I also gave free consultations. This not only attracted crowds to the inauguration of the salons, but gave the new venture a real impetus. It was based on a personal interaction, where I would meet people, listen to their problems and provided the beauty solutions. Thus, I was answering a human need, specializing in Care & Cure.My presence at the openings evoked much media coverage and a fantastic response. This method proved so successful that soon I was attending two openings on the same day, flying to two or three different cities in India. | |
The pace was hectic, but it became a distinctive style. Later, I adopted it for the openings of my franchise clinics and other ventures abroad. During one ofmy trips, I held a press conference in Hawaii in the morning, one at the airport in Tokyo the same afternoon and attended a Press Reception at the residence of the Consul General of India in Hong Kong the same night. Unknowingly and unconsciously, in spreading Ayurveda across the globe, a brand was born. From one herbal salon to a worldwide chain, it has been a phenomenal journey. Today, ours is the largest organization of its kind in the world.

The Shahnaz Husain Group has acquired a tremendous global presence, having sold at prestigious stores, like Galeries Lafayette (Paris), Harrods and Selfridges (London), the Seibu chain in Japan, Bloomingdales (New York), La Rinascente in Milan (Italy), as well as exclusive outlets, salons and spas worldwide. With the professional infrastructure to support the demands of products and publicity, and tremendous goodwill, the Shahnaz Husain Group has also gone global with its other ventures, like the Shahnaz Husain Forever Beautiful lifestyle shops, Beauty Training Institutes, Ayurvedic Centers and Shahnaz Husain Ayurvedic Spas, all based on our franchise system. We have recently extended our base in the UK by opening a training school and two more franchise salons in London, in Finchley and Middlesex, as well as a Shahnaz Ayurveda Aesthetic Clinic on Harley Street.

During the last three decades, the Shahnaz Husain brand name has established unquestioned and unwavering brand loyalty. Today, the brand is ideally positioned in the domestic and international markets. What is truly unique is that "Shahnaz Husain" is not a faceless brand name or corporate. The image that is foremost in the mind of clients and consumers is that of a real, answerable person, who is herself trained in cosmetology and cosmetic chemistry. Today, the mention of the name evokes instant recognition. My name has become the brand and I am the brand ambassador. To that extent, I am the reality behind the brand. It is not merely a brand name. Today, it has become a hallmark of quality and excellence…the only Ayurvedic beauty care line in the world.

What were the hurdles that you patiently faced? How could you break the glass ceiling? How difficult was it?
I introduced a totally new concept of herbal care and cure. I opened the windows of the beauty world to nature and promoted the Ayurvedic path to beauty. I had to make people aware of the dangers of chemical treatments and the benefits of natural care. So, apart frommy work and unique concept, I made it a point to hold seminars and address press conferences, write regular beauty columns and never relied on commercial advertising. Initially, I did not enter the retail business. My products grew out of clinical usage, based on client feedback. I also started encouraging ordinary housewives to acquire training and start salons in their own homes. Taking Ayurveda across the boundaries of India and entering the international market were not easy. I participated in the Festival of India in London in 1980 and was given a counter in the Perfumery section at Selfridges, the famous London store. I was rubbing shoulders with the biggest international brand names. In a hysterical international cosmetic industry, where billions of dollars are spent on advertising and packaging, selling youth and dreams in bottled jars and in the face of fierce competition, I stuck to my guns and solo "India & Ayurvedic" image. I stood alone at the counter and sold my country's 5000 year old ancient heritage in a jar. To everyone's surprise we sold out our consignment in three days, breaking the store's cosmetic sales records. Deterrents come up in life, but I have tried to meet them as challenges, with my desire to excel, my relentless determination to succeed, an iron will and sheer hard work.

I started my own enterprise. Moreover, I am in the beauty business. Three decades ago, there were only salons for women. It was a business that dealt only with women. In fact, at that time, I had only employed women. Beauty was not as big a business as it is today. For these reasons and because it was my own enterprise, the question of gender bias or a glass ceiling did not arise.
1. Women Executives/CEOs Case Studies
2. ICMR Case Collection
3. Case Study Volumes
Related Links
Related Case Studies
Useful links