Browse Executive Interviews
By Subject
Publishing Year
Publishing Year
Interview with Shahnaz Hussain on Women Executives
July 2007 - By Dr. Nagendra V Chowdary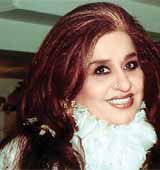 Shahnaz HusainBorn into a conservative family, Shahnaz had to comply with existing traditions and was married at the tender age of 15, and became a mother by the time she was 16. She trained for ten years in cosmetic therapy and cosmetic chemistry, at leading institutions of the West, like Helena Rubinstein, Swarzkopf, Christine Valmy, Lancome and Lean of Copenhagen. Adopting the principle of "Care and Cure," she set up her own herbal clinic, at her residence, with very little capital investment (less than US$1000), formulating products for skin, hair and body care, based on the Ayurvedic system and devising clinical treatments for specific problems. Her formulations and treatments have become breakthroughs in natural beauty care.
In fact, Shahnaz was the first Asian to enter Galeries Lafayette in Paris in herbal care and the first Asian to be featured in the 18-foot shop window of the famous Paris store. Hers is the first Indian herbal cosmetic company to have featured in Harods and Selfridges.

Shahnaz is also the pioneer of vocational training in beauty in India. More than 25 years ago, when only apprenticeship training was available, Shahnaz started her beauty institute, Woman's World International, to provide comprehensive training in beauty. Today, students come from all over the world to acquire training in Ayurvedic treatments and receive the coveted Shahnaz Husain Diploma.
In 1993, she started Men's World International, to cater to the demand for trained personnel in Men's Salons. She recently became the first Indian to open a beauty training institute in London. Shahnaz translated her spiritual values into reality by opening Shamute, a free beauty training institute for the speech and hearing impaired.
Useful for Understanding of:
Woman Entrepreneurship
Glass Ceiling
Women in family business
Role of Culture.
| | |
| --- | --- |
| Originally Published in | Effective Executive, IUP |
| Effective Executive Reference No. | 03M-2007-07-05-06 |
| IBSCDC Reference No. | INT0051 |
| Year and Month of Publication | July 2007 |
| Keywords | Shahnaz Husain, Woman Entrepreneurship, Glass Ceiling, Women in family business, Role of Culture |
1. Women Executives/CEOs Case Studies
2. ICMR Case Collection
3. Case Study Volumes
Related Links
Shahnaz Husain's weblinks
Related Case Studies