Executive Interviews
on Leadership
on Change Management
on Global Strategy
on Corporate Entrepreneurship
on Multicultural Teams
on Family Business
on Strategy Execution
on Collaboration
Executive Interviews: Interview with Shahnaz Hussain on Women Executives
July 2007 - By Dr. Nagendra V Chowdary

---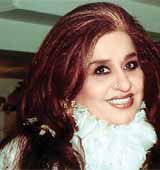 Shahnaz Hussain
Pioneer and Leader of herbal care in India
She is also a pioneer of Vocational Training in Cosmetology in India.

First of all, congratulations on clinching the honor of one of the World's Greatest Woman Entrepreneur by Success Magazine. And that too the first Indian woman to do so in the magazine's 107-year history. Along with it, Padma Shree and many more have decked up your award kitty. All these awards are, we are sure, a testimony to your tenacity and ambition. Can you take us through the journey of Shahnaz Husain Group's humble beginnings right into where it stands today?
I never planned it this way. My life was on a very different course. I belong to a traditional and conservative family. I was engaged at
14 and married at 15. By the time I was 16, I had become a mother. Life seemed perfect, but I was bored with the drudgery of endless routine. Then the mental upheaval began. I was in search of something. I was interested in beauty and in making others beautiful. So, I decided to choose beauty as a career and I was determined to get the best training possible in Beauty Therapy. My husband was posted as head of foreign trade with STC in Tehran. I decided to work my way to the prized institutions of the West to learn cosmetic chemistry and cosmetology. I was not a graduate, having got married straight after school. But, I loved to write, so I started writing articles for The Iran Tribune on various subjects. I was asked to contribute 1000 words per week, but the response was so good, that they asked me to handle all the features in English and soon I was running the entire English magazine cover to cover.

I studied cosmetic chemistry and cosmetology for ten years at leading beauty schools of the West, like Helena Rubinstein, Lancome, Christine Valmy, Swarzkopf and Lean of Copenhagen. During my training in London, there were some instances that caused me to wonder if I had chosen the right career. There was a newspaper report about a London model, who became blind after using a certain mascara. She later committed suicide, unable to face the consequences. There was a similar incident of an adverse reaction after the use of a sunprotection lotion, which caused severe burns on the skin. I learnt about the chemical ingredients that carry the risk of such dangers. In a way, these tragic incidents changed the course of my life and career. I thought if people are committing suicide due to the use of chemicals and their dangerous side effects, I will evolve a treatment which is safe and without risks. I was determined to find a natural alternative and decided to go back to my roots, to Ayurveda, the ancient Indian system of herbal healing. The study of Ayurveda convinced me that it could provide the ideal alternative to the demands of beauty care. I started my first herbal clinic in my own home in 1971, based on the Ayurvedic system and adopted the principle of "Care and Cure." To implement the idea of total beauty, with an emphasis on the good health of the skin and hair, I established customized beauty care, with a personalized style, based on individual needs and problems. It was a totally unique, path breaking concept. I devised my own treatment and began to formulate my own products, based on Ayurveda. Today, they have become breakthroughs in Ayurvedic beauty cures and care.

Our franchise systemis at the core of the success of the Shahnaz Husain brand. All our ventures, like the Shahnaz Herbal salons, Forever Beautiful Shops, Beauty Training Institutes and Spas are based on the franchise system. The idea occurred to me when a friend came to me fromCalcutta, with a list of products for her friends. I told her thatmost of my products were prescriptives and specialized training was needed to advise others on their use. She then requested me to train her and once she was trained, she wanted to start her own salon and use my treatments and products. So, we worked out an agreement by which I gave her the right to use the Shahnaz Herbal name. This was the beginning of my franchise system and training school. After that I began to encourage ordinary housewives to open salons in their own homes, so that they could achieve financial independence and yet, be close at hand to attend to their home and family. I trained them and offered the Shahnaz Herbal franchise. Within the first year I had 80 franchise salons in India.
1. Women Executives/CEOs Case Studies
2. ICMR Case Collection
3. Case Study Volumes
Related Links
Related Case Studies
Useful links