Executive Interviews
on Leadership
on Change Management
on Global Strategy
on Corporate Entrepreneurship
on Multicultural Teams
on Family Business
on Strategy Execution
on Collaboration
Ad
Executive Interviews: Interview with Prof. John T Delaney on Business Model Innovation
April 2009 - By Dr. Nagendra V Chowdary

---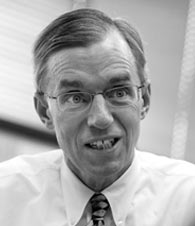 Prof. John T Delaney
Dean, College of Business Administration and Joseph M. Katz Graduate School of Business.

No business school in the world offers a course on business models. Do you think it's time to articulate an exclusive course on business models? After all, a wholesome and holistic understanding of creating a business model might open a window to all the other courses?
Business schools regularly address business models in other ways. For example, your assumption seems to be that a specific course is needed to ensure a topic is covered in the curriculum. I agree that students need to understand business models. Because business models are general, however, a coursemay not be the best way to teach the subject. Students might learn more from being immersed in a project that requires the identification of a viable business model. They might become more aware of a business model because of the need to create a business plan in an entrepreneurship course. Similarly, theymightwrite a thesis on business models. Such non-course approaches to the subject could provide a better education on business models. Since business models are general, a course on models may not be as effective as the introduction of other means of understanding the point and purpose of business models.

The world is in the midst of an unprecedented crisis created by a few greedy investment bankers. The effects of this crisis are quite pronouncing. How important is it to innovate business models in these troubled times? Are there any best practices that the companies can emulate?
Although greed and investment bankers surely played a role in the crisis and recession, many other factors contributed to our current situation. Inadequate regulatory oversight, poor understanding of certain securities, the public's assumption that housing prices only rise, to name a few of the factors, created an environment in which the crisis could unfold.

Now that we are in the midst of the crisis, everyone is looking for a sign that the worst is over and we are back on a normal path. That sign will come one day – though we probably won't recognize it until long after it hashappenedss. In the midst of this environment, business schools can play a special role as a mediating institution that helps organizations adjust and prosper, while aiding individuals in need of new skills, specialized help, or basic advice.

I suspect that the landscape created by the crisis will stimulate the creation of new business models and those models will be the source of enormous opportunities for individuals poised to seize the situation. Existing business models will also survive, to a large extent, as they are mostly already configured to the workings of our global economy. But elements underlying some models may change as a result of regional realignments, altered consumption patterns, and amended regulatory or legal environments for firms.

Best practices will emerge from education, insight, and learning. Again, business schools have a role to play in this arena. We will be challenged, however, by our business models, which seek resources in return for the specialized skills and knowledge we can offer to firms and individuals. The models encourage competition at a time when cooperation may be in the best interest of global society. Although faculty members are likely willing to provide support to nearly any firm and individual, our models prevent schools from coordinating such support. For good reason, given that such efforts in normal times jeopardize the resource base of the school. The stickiness of the model means that we may not apply all of our available resources to the resolution of the current crisis. So, yes, we all need to understand business models and we also need to know how to change them when times warrant.
---
The interview was conducted by Dr. Nagendra V Chowdary, Consulting Editor, Effective Executive and Dean, IBSCDC, Hyderabad.
This interview was originally published in Effective Executive, IUP, April 2009.
Copyright © April 2009, IBSCDC No part of this publication may be copied, reproduced or distributed, stored in a retrieval system, used in a spreadsheet, or transmitted in any form or medium – electronic, mechanical, photocopying, recording, or otherwise – without the permission of IBSCDC.