Executive Interviews
on Leadership
on Change Management
on Global Strategy
on Corporate Entrepreneurship
on Multicultural Teams
on Family Business
on Strategy Execution
on Collaboration
Ad
Executive Interviews: Interview with Prof. John T Delaney on Business Model Innovation
April 2009 - By Dr. Nagendra V Chowdary

---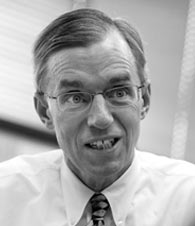 Prof. John T Delaney
Dean, College of Business Administration and Joseph M. Katz Graduate School of Business.

During a crisis, people are willing to try new things, approach business and life from a different angle, and make changes. That opens the door for businesses to gain new customers and develop new lines. But a firm will only see the openings if its leaders are constantly questioning and examining what it is that the business provides to clients, customers, and consumers. Ironically, for some firms, this approach may suggest a narrow and concentrated approach, while for others it may identify new directions and lines of business. There is no single approach that everyone can follow to ensure success. (Of course, it is wise for everyone to pay attention to costs and spending during the downturn. Indeed, it's wise to look at costs and spending in all economic situations.)

Is there any way to manage the downturn without downsizing?

Sure and that outcome could occur for a variety of reasons. Some firms may decide that it is important not to downsize. Such companies may reduce pay, put people to work on different projects, restrict hiring, and so on to avoid having to let people go. This happened during the Great Depression and will likely happen in some organizations today. Other firms may grow because of new opportunities created by the environment. Those firms will be looking to hire. At the same time, all individuals will not have an equal opportunity to be hired. Firms will look for people with specific skills. That will be one of the hallmarks of the future for workers. People must develop appropriate skills to create value for businesses. There will be less demand for unskilled workers— even in Least Developed Countries (LDCs) with low wages—because technology will allow work to be completed by fewer workers.

What according to you is a business model (with elaborate and differing definitions apart) and what do you think are the components that constitute a business model?
A business model is a general framework that depicts how an organization creates value and generates resources. Because a business model is a general concept, it may have many components. Managers and leaders must identify and optimize the components of the model relevant to their organization. And note that this point reflects back to my view on the need to ask constantly "what business are we in?" for the business model changes if the business changes. For example, if you are in the security and emergency preparedness business, your model will offer more ways to create value if you decide you are selling "peace of mind" than if you choose to sell "security guard services."

What is the importance of having a wholesome and holistic understanding of business models?
If you understand the general concept, it will allow you to identify more specific ways to generate revenue for your organization. Look at things this way: individuals who understand a business model are like explorers who are aware of their terrain. Many different routes exist to get from point A to point B for an explorer, just as many different plans exist to generate revenue from a business model. The key is to select the best route given the circumstances (and to be able to switch routes if a roadblock appears). Our business goal is revenue, which is lifeblood— especially in a recession.

Is there any difference between a business model and a business plan? Few mistakenly suggest that for entrepreneurship courses, it is business plan and for strategy course it is business model. Surely the truth is something else? Can you elaborate on the differences between a business model and a business plan?
A business plan is a specific enumeration of objectives. Ideally, it is aligned with a business model that generates revenue. Picking up on my example above, a business plan is like a map across the terrain. The map gets an explorer from one place to another, though it often represents one way of reaching the destination. Since a business model allows for many paths, it is possible for competing organizations to have different business plans for succeeding under the same business model.

Entrepreneurship courses often focus on business plans because students have not examined systematically the point and goal of the business they have conceived.Whether it is a coffee shop or the commercialization of a new nanotechnology product, success is in the details. As part of the detailed approach, an entrepreneur needs to look back at the business model for the kind of organization that is envisioned. A detailed and careful plan will fail, after all, if the underlying business model does not generate sufficient revenue.