Executive Interviews
on Leadership
on Change Management
on Global Strategy
on Corporate Entrepreneurship
on Multicultural Teams
on Family Business
on Strategy Execution
on Collaboration
Ad
Executive Interviews: Interview with John C Camillus on Business Model Innovation
May 2009 - By Dr. Nagendra V Chowdary

---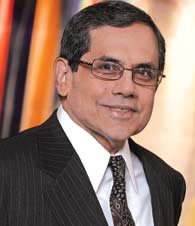 John C Camillus
Donald R. Beall Professor of Strategic Management, Joseph M. Katz Graduate School of Business and College of Business Administration.

The world is in the midst of an unprecedented crisis created by a few greedy investment bankers. The effects of this crisis are quite pronouncing. How important is it to innovate business models in these troubled times? Are there any best practices that the companies can emulate?
The only, rather faint silver lining of this crisis is that organizations and governments are rethinking their 'business models'. These troubled times are resulting in dramatically different business contexts and new business models are surely needed. You may recall that with the explosion of information technology and the near-universality of Internet access, Jack Welch as one of his final initiatives demanded that every business in GE create a new business model incorporating IT capabilities in order to respond to what he perceived as a technological disruption. He, most appropriately, called the initiative "DestroyYourBusiness. com" or "dyb.com" for short. Every responsible CEO has to be thinking today about how their organizations' business models should be changed, perhaps destroyed, in response to the emerging discontinuity in the global economy and in geopolitics.

Regarding the best practices in today's challenging and unprecedented context, I would like to limit my recommendations to three that I am firmly convinced are of signal importance and offer potentially enormous benefits at a manageable cost:
First, organizations should review and affirm their identity – their values, aspirations and competencies – and employ this identity as a litmus test to ensure that every refinement of the business model, every strategic choice and every significant operating decision is in alignment.
Second, organizations need to consider employing the criterion of humanity to stimulate their thinking about innovative business models and competitive strategies. This means recognizing that enhancing quality, safety, environmental and social sustainability, and diversity in the workforce and leadership offers the potential to improve profit performance both immediately and in the long term. This also means searching for underserved market segments that have been under the radar and understanding the impact of the globally inter-connected nature of the economy on their business models. The present crisis would have been much less serious if the "greedy investment bankers" you refer to had employed humanity as a touchstone for their business decisions.
Third, organizations have to respond appropriately to the wicked nature of the problem by employing feedforward techniques, engaging in deliberate and thoughtful experimentation, meaningfully involving significant stakeholders, emphasizing communication using Web 2.0 approaches, and seeking strategic insights emanating from robust actions identified through possibility scenarios and Pareto analysis.

In short, affirm and realize your organization's identity, understand and embrace humanity in managerial decision making, and recognize and respond to the wickedness of the challenge.
---
The interview was conducted by Dr. Nagendra V Chowdary, Consulting Editor, Effective Executive and Dean, IBSCDC, Hyderabad.
This interview was originally published in Effective Executive, IUP, May 2009.
Copyright © May 2009, IBSCDC No part of this publication may be copied, reproduced or distributed, stored in a retrieval system, used in a spreadsheet, or transmitted in any form or medium – electronic, mechanical, photocopying, recording, or otherwise – without the permission of IBSCDC.
Related Links
Related Case Studies
Useful links
Ad