Browse Executive Interviews
Subject wise
Publishing Year
Publishing Year
John C Camillus on Business Model Innovation
May 2009 - By Dr. Nagendra V Chowdary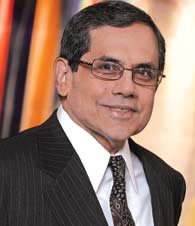 Dr. John C Camillus is the Donald R Beall Professor of Strategic Management at the Katz Graduate School of Business at the University of Pittsburgh. He has served as Associate Dean and Executive Associate of the School. Prior to joining the University of Pittsburgh he was Professor of Management at the Indian Institute of Management, Ahmedabad.
He earned his doctorate in business administration at Harvard University. He was a gold medalist in the Postgraduate Program (MBA) at the Indian Institute of Management, Ahmedabad, and received the Bachelor of Technology degree (in mechanical engineering) from the Indian Institute of Technology, Madras. His research on strategic planning and management control has been funded by diverse organizations including the National Science Foundation, the Institute of Chartered Accountants of India, the Hong Kong Productivity Council and the US Bureau of the Budget.
He has published extensively in professional journals, serves on several editorial boards, and has authored/co-authored four books.
He has been a consultant to over 80 organizations, including many Fortune 500 companies and not-for-profit organizations. He is a Trustee of the Carnegie Museums of Pittsburgh and is on several other boards. His community service has been formally recognized by the Senate of Pennsylvania and he has received the University of Pittsburgh's "Chancellor's Distinguished Public Service Award."
Camillus has received numerous awards in recognition of teaching excellence, including the "Best Teacher Award" at the Indian Institute of Management and the University of Pittsburgh's "Chancellor's Distinguished Teaching Award".
Useful for Understanding of:
What is wicked problem and how to manage the wickedness of strategy?
Downturn without downsizing
Business models and the components that constitute a business model
Importance of having a wholesome and holistic understanding of business models
Difference between a business model and business plan.
| | |
| --- | --- |
| Originally Published in | Effective Executive, IUP |
| Effective Executive Reference No. | 03M-2009-05-11-06 |
| IBSCDC Reference No. | INT0101 |
| Year and Month of Publication | May 2009 |
| Keywords | John C Camillus, What is wicked problem and how to manage the wickedness of strategy?, Downturn without downsizing, Business models and the components that constitute a business model, Importance of having a wholesome and holistic understanding of business models, Difference between a business model and business plan. |
Related Links
John C Camillus weblinks
Related Case Studies
Ad