Browse Executive Interviews
Subject wise
Publishing Year
Publishing Year
Interview with James O'Toole on Business Schools and Business Ethics
July 2010 - By Dr. Nagendra V Chowdary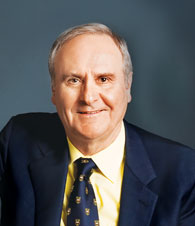 James O'Toole is the Daniels Distinguished Professor of Business Ethics at the University of Denver's Daniels College of Business.
O'Toole's research and writings have been in the areas of leadership, philosophy, ethics, and corporate culture. Among his sixteen books, Vanguard Management was named "One of the best business and economics books of 1985" by the editors of BusinessWeek. His latest books are Creating the Good Life: Applying Aristotle's Wisdom to Find Meaning and Happiness (2005), The New American Workplace (with Edward Lawler, 2006), and Transparency (with Warren Bennis and Daniel Goleman, 2008).
He won a Mitchell Prize for a paper on economic growth policy, has served on the Board of Editors of the Encyclopaedia Britannica, and was editor of The American Oxonian magazine.
In 2007 he was named one of the "100 most influential people in business ethics" by the editors of Ethisphere, and one of "the top 100 thought leaders on leadership" by Leadership Excellence magazine.
Useful for Understanding of:
Business Schools and Business Ethics
Hyporcratic Oath for MBAs
Teaching, Research and Institional Challenges
The Changing Face of Business Schools' Research
Leadership in Business Schools
James O' Toole
| | |
| --- | --- |
| Originally Published in | Effective Executive, IUP |
| Effective Executive Reference No. | 03M-2010-07-10-06 |
| IBSCDC Reference No. | INT0013 |
| Year and Month of Publication | July 2010 |
| Keywords | Business Ethics, Business Schools, Business Schools' Research, Leadership in Business Schools, Professionalization of Management Education, Business Ethics of Business Schools, James O'Toole, Wharton Business School |
Related Links
Books by James O'Toole
James O'Toole's weblinks
Related Case Studies
Ad