Browse Casebooks
Subjects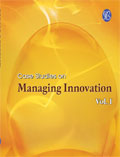 Case Studies on Managing Innovation - Vol. I
Edited by : Nusrath Jahan Maldar & Rajendar Singh Rathore
ISBN : 81-314-0603-2
Price: $50 ( INR)
392 pages( Hardcover edition )
Snapshot of the casebook
Over the years, with globalisation eliminating country boundaries, competition has intensified in every industry and market. While global brands are facing stiff competition from local brands in some markets, many local companies are planning to launch their products on a global platform. Simultaneously, consumers are becoming increasingly price sensitive and brand conscious. Faced with turbulent business conditions, management thinking has shifted focus towards 'innovation' as the primary source of building a sustainable competitive advantage.
But changing times have also changed the definition of innovation. Innovation does not mean technological creativity nor is it restricted only to the R&D department of an organisation. In addition to inventing new products, the term 'Innovation' encompasses, developing new processes or business models and coming up with new means of distribution, marketing or design. Innovation has become an omnipresent driver of growth, no longer confined to the high-tech industries of the economy. The belief that 'a company which runs out of innovation will run out of growth' has set in far and wide. Be it manufacturers of fast moving consumer goods like P&G or companies like Intel dealing with cutting edge technology; investment in innovation across all industries has been registering an all time high.
The case studies contained in this book Case Studies on 'Managing Innovation' provide insights into the conditions that have given birth to some of the most revolutionary innovations of modern times and the important role played by the top management in nurturing an 'innovative organisation'. The case studies also help in bringing to light the emerging trends in business innovation and in analysing the critical success factors that form a prerequisite to building an innovative culture in an organisation. Besides, they also help in bridging the gap between theory and practice by developing an understanding of when and how to apply techniques learned in management studies.
Cases featured in this book
Sample pages
Related Links
Useful links
Related Casebooks
c
Ad