Browse Casebooks
Subjects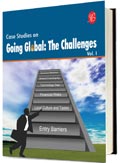 Case Studies on Global Banking Industry: The New Horizons
Edited by : Priti Krishnan
ISBN : 978-81-314-2414-8
Price: $25 ( INR)
328 pages( Hardcover edition )
Snapshot of the casebook
Global banking industry, one of the most significant and profitable industries in the world economy, has witnessed many interesting trends over the past decade. Deregulation of the banking industry in prominent nations combined with technological advancements has intensified the competition in the industry. This in turn forced banks to search for new means of increasing their income, but at higher risk levels. Over the years, banks across the world have revamped their business operations to cope up with the changing market demands. Many banks also started focusing on business avenues like asset management and insurance to ramp up their bottom lines. Increasing costs coupled with decreasing margins compelled the banks to expand in size. Further, evidence suggests that the bigger the bank the lower is the 'per unit transaction cost ratio'. This temptation has lured banks across the global industry to tread the path of consolidation.
However, these trends have not been able to converge the banking industries worldwide around a single, uniform structure. Striking differences in the banking systems across the nations present it as an interesting as well as a puzzling industry.
Through the cases chronicled in this book, varied concepts related to banking, ranging from branding to mergers and acquisitions, have been unveiled. The case studies also dwell into the emerging trends in the banking industry and analyse the critical success factors for banks in the dynamic market conditions.
Cases featured in this book
Sample pages
Related Links
Useful links
Related Casebooks
c
Ad