Browse Casebooks
Subjects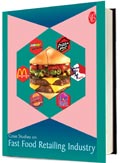 Case Studies on Fast Food Retailing Industry - Vol. I
Edited by : Vara Vasanthi
ISBN : 978-81-314-2456-8
Price: $25 ( INR)
254 pages( Hardcover edition )
Snapshot of the casebook
What should be the future plan of action when a booming industry succumbs to not just competition but also to widespread criticism from all quarters?
The fast food industry which has captivated millions of people by offering a variety of scrumptious food items is now facing serious challenges. Initiated by Raymond Albert Kroc (Kroc) through his McDonald's venture, the fast food industry grew by leaps and bounds within a short time. The success of McDonald's invited several other chains - like Burger King, Taco Bell, Kentucky Fried Chicken, Wendy's, Pizza Hut and Dunkin's Donuts - to foray into the industry. The chains successfully leveraged on the trend of increasing number of women in the workforce and unveiled a unique takeaway culture. However, the unrestricted consumption of fast food resulted in alarming levels of obesity and rising incidence of heart attacks, diabetes and few other diseases. The subsequent decline in the sales of these companies coupled with the increasing health-consciousness among people and competition from new restaurant concepts forced many fast food companies to shift towards healthier offerings.
The cases compiled in this book are an attempt to give a holistic understanding of the emergence of the fast food industry and the challenges faced by the players in the industry. Each case is different in its own way and helps management graduates, academicians and managers to understand how companies should adapt their strategies as per customer preferences.
Cases featured in this book
Sample pages
Related Links
Useful links
Related Casebooks
c
Ad