Browse Casebooks
Subjects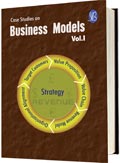 Case Studies on Business Models - Vol.1
Edited by : R. Muthukumar
ISBN : 81-314-0692-X
Price: $25 ( INR)
280 pages( Hardcover edition )
Snapshot of the casebook
Almost everyone has heard and talked about the term 'Business Model' but how many do really understand what it is? The term a standard phrase in the glossary of business managers can be found in most books, articles, company's newsletters and annual reports. In order to assess a potential business model, we must uncover the nature of its 'profit engine', for which a few questions need to be answered like:
How likely is the business to turn cash flow positive?
How much time is required to ramp-up the revenue?
How much investment is required to pursue the business model?
What are the critical success factors? etc.
This book helps to analyse and answer the above said questions to understand the term 'business model'. It also entails the primary elements and defining characteristics of a company's business model through illustrative case studies.
Cases featured in this book
Sample pages
Related Links
Useful links
Related Casebooks
c
Ad