Browse Executive Interviews
By Subject
Publishing Year
Publishing Year
Interview with Vandana & Vaishnavi on Women Executives
August 2007 - By Dr. Nagendra V Chowdary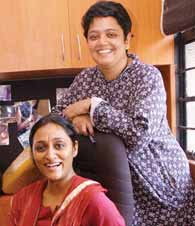 Vandana & Vaishnavi is currently dedicated to the cause of homeless persons with mental illness through the various projects of "The Banyan". She has done her B.A in English literature from Women's Christian College, Chennai.
Vandana Gopikumar has done M.A (Medical & Psychiatric Social Work) from Madras School of Social Work, Chennai.
Vandana's narrative of how it all happened
When visiting Vaishnavi, close friend and student in my old college, Women's Christian College, Chennai, I witnessed society's unconcern to the plight of a naked, mentally ill destitute woman in absolute distress outside the campus. While college authorities proved helpful, mental health institutions and NGOs were reluctant to admit this lady who was in desperate need of medical and psychiatric attention. When one finally agreed, a subsequent follow-up visit revealed her absence and the strong possibility of her being back on the streets. Three such instances over the next few months left us disillusioned. "The Banyan" germinated out of the conviction that the totally deprived—homeless, mentally ill have a right to timely treatment and a chance to a better future. The Banyanwas subsequently started after I finished my Masters in Social Work. Vaishnavi, soon dropped out of her MBA to join me.
Useful for Understanding of:
The Contributions of 'The Banyan', an Indian NGO
Women Executives.
| | |
| --- | --- |
| Originally Published in | Effective Executive, IUP |
| Effective Executive Reference No. | 03M-2007-08-05-06 |
| IBSCDC Reference No. | INT0078 |
| Year and Month of Publication | August 2007 |
| Keywords | Vandana & Vaishnavi, The Contributions of 'The Banyan', an Indian NGO, Women Executives |
Related Links
Related Case Studies
Ad