Executive Interviews
on Leadership
on Change Management
on Global Strategy
on Corporate Entrepreneurship
on Multicultural Teams
on Family Business
on Strategy Execution
on Collaboration
Ad
Executive Interviews: Interview with Eileen Fischer on Steve Jobs
March 2010 - By Dr. Nagendra V Chowdary

---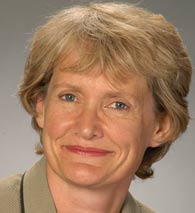 Eileen Fischer
Eileen Fischer, is a Professor of Marketing and the Anne and Max Tanenbaum Chair in Entrepreneurship and Family Enterprise

Do you think brand 'Steve Jobs' has come to overshadow brand 'Apple'?
This depends on what audience you are referring to. Among some kinds of investors, it may well be that Jobs overshadows Apple. Among consumers, I think Jobs may, in fact, increasingly be overshadowed by Apple: the younger generation of Apple consumers may not even know who Steve Jobs is! And to the extent that they'll buy Apple products because of Apple brand, not because of Jobs' brand, then the future of Apple is strong.

One of the often quoted themes of Steve Jobs has been, 'what next'. Now the question on every one's mind is what's next for Apple, after Steve Jobs? What would be Apple MINUS Steve Jobs?
The brand franchise of Apple (even sans Jobs) is huge. The company is not nearly as dependent on him for its image and innovativeness as is sometimes suggested.

What according to you would be the impending challenges for Steve Jobs' successor? Can he manage the mandate?
Continuing to innovate and to see what consumers are going to want next is the challenge for the company. The leader needs to help the rest of the organization keep doing that. Convincing some stakeholders that Apple is NOT synonymous with Jobs is likely to be difficult.

How should the business world remember Steve Jobs' legacy? What, according to you, is the most befitting way to celebrate Steve Jobs' indomitable spirit?
Well, without taking anything away from Jobs' accomplishments, I think that for people to learn something from the case of Steve Jobs is, it is important to look at the time and place he achieved his successes in. He was a key player at a remarkable time of technological innovation and his imagination about what could be done with the technologies that were coming along is instructive.
---
The Interview was conducted by Dr. Nagendra V Chowdary, Consulting Editor, Effective Executive and Dean, IBSCDC, Hyderabad.
This Interview was originally published in Effective Executive, IUP, March 2010.
Copyright © March 2010, IBSCDC No part of this publication may be copied, reproduced or distributed, stored in a retrieval system, used in a spreadsheet, or transmitted in any form or medium – electronic, mechanical, photocopying, recording, or otherwise – without the permission of IBSCDC.
Related Links
Eileen Fischer's weblinks
Related Case Studies
Ad