Executive Interviews
on Leadership
on Change Management
on Global Strategy
on Corporate Entrepreneurship
on Multicultural Teams
on Family Business
on Strategy Execution
on Collaboration
Ad
Executive Interviews: Interview with Bala V Balachandran on Government and Business
December 2009 - By Dr. Nagendra V Chowdary

---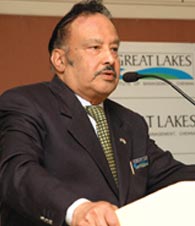 Bala V Balachandran
Founder anf Honorary Dean of Great Lakes Inistitute of Management

Should boards view the current crisis as an opportunity to review the way they function. During tough times – and they haven't been this tough for generations –directors are supposed to ask difficult questions about their companies. Yet they rarely ask hard questions about themselves, such as, "Are we the right people, asking the right questions, providing the right sort of leadership, challenging management in the most productive ways?" A healthy selfassessment can go a long way toward improving a company's performance. What kind of reassessment do you suggest for the boards and their directors?
The boards by and large are good in good companies and nowadays many board members are asking the right questions at the right time. With a self evaluation among board members and with significant competent and independent board members a company can achieve more. The key is not the question or even the answer. But the timing of the execution with a sense of urgency. Otherwise it will be too late and the conditions that existed at the time of the question and discussion may no more be relevant.

What are the major global trends that businesses should be thinking about? Do you envision new approaches to management and new ways of interacting?
As always a huge upheaval and renaissance in the way management educated is delivered and in the way that companies practice management is imminent. Already, we have had questions regarding the perpetrators of the various scams – that they are leading ivy leaguers and by extension the question also arose as to the quality of the management education imparted by these prestigious institutions. I wish to add that several schools in the west are taking huge steps towards inclusion of Vedic literature (such as the lessons of Bhagwad Gita and Asian scriptures which are valuable sources of direction and wisdom) in revamping and designing their courses of ethics. This is a step in the right direction which aims to impart value-based education and in creating managers who are also attuned to being morally responsible leaders of tomorrow.

What specific three measures do you suggest to ensure that such crises do not recur? To what extent should the government intervene in business to check immoral behavior of executives and / or entrepreneurs?
Integrity and honesty, ability with humility and passion with compassion. As for government intervention, we need to remember that the government is an entity that is also composed of people. An enterprise is only as good as its people. Hence, while intervention is definitely recommended along broad lines, it cannot make a significant contribution if the people involved (both on behalf of the government and the enterprise) are not up to the task.
---
The interview was conducted Dr. Nagendra V Chowdary, Consulting Editor, Effective Executive and Dean, IBSCDC, Hyderabad.
This interview was originally published in Effective Executive, IUP, Dec 2009.
Copyright © Dec 2009, IBSCDC No part of this publication may be copied, reproduced or distributed, stored in a retrieval system, used in a spreadsheet, or transmitted in any form or medium – electronic, mechanical, photocopying, recording, or otherwise – without the permission of IBSCDC.
Related Links
Related Case Studies
Useful links
Ad