Executive Interviews
on Leadership
on Change Management
on Global Strategy
on Corporate Entrepreneurship
on Multicultural Teams
on Family Business
on Strategy Execution
on Collaboration
Ad
Executive Interviews: Interview with Bala V Balachandran on Government and Business
December 2009 - By Dr. Nagendra V Chowdary

---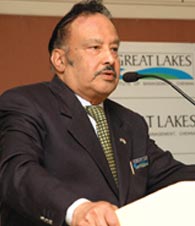 Bala V Balachandran
Founder anf Honorary Dean of Great Lakes Inistitute of Management

Firstly, congratulations for being an illustrious and distinguished professor and for having taken 'Great Lakes' to great heights in such a short time? What was the trigger for you to have conceptualized Great Lakes model of management education?
My tryst with Institution building for higher management education goes back to the days of 1973 when the first six faculty of IIM Bangalore, were hired at my home in Chicago with N S Ramasamy at the helm of affairs. Looking back, I realize that the seed for Great Lakes was sown right then. I had a plan, but no resources or more importantly – no experience. The opportunity came with MDI, Gurgaon, where I worked with the UNDP grant of US$700,000 and the rest as they say, is history.
The MDI experience at Gurgaon laid the foundation and watered the seedling between 1991 and 1997 where I gained significant exposure to the creation and launch of the PGPM program. This also allowed me to explore the nitty-gritties of collaboration with a foreign university as the PGPM at MDI Gurgaon was set up with a generous grant from UNDP to Kellogg. Soon on the heels of the MDI, came ISB. My stint as the Chairman of Curriculum and Faculty and as the founding faculty of the ISB at Hyderabad during 1998 and 2004, was replete with more learnings and insights into the various components of the PGPM program concept, delivery and liaison with industry and academia. Thus, the time was ripe, I had not only a plan, but also reasonable resources and substantial wisdom and with the help of Dean Donald Jacobs and Dean Jain at Kellogg, Great Lakes Institute of Management was conceived at Chennai with the help and encouragement from my friends all over the world during 2003. We identified some differentiating points while exploring the strengths of the other institutions I built and felt 3 important themes.
Global Mindset, Indian Roots,

Highest Quality at Affordable cost or US Top Schools Quality but Indian Prices and

Meritocracy Transparency and Innovative Curriculum with a 12 months model. In other words, a Super Convex combination of IIM A, B or C and ISB. The result is Great Lakes leveraging my relationships, networks and experience. We announced in July 2003 and the first class started in April 29, 2004 with 124 students. Again the trigger is location and timing which I did, in spite of my quintuple bypass surgery in 2002.
During your very distinguished and illustrious career you would have witnessed several economic crises and for many you would have been consulted. How do you describe the global economy's mood right now?
Beaten by the impact and intensity of the economic crisis that was felt in September 2008 and beyond, there was awe and shock though there were many forewarning signs of massive collapses and lapses that probably started in 2003 with the subprime mess and obscene bonuses based on illusory profits and revenues mainly based on greed by many individuals unchecked and poorly regulated. However during this late months may be from July 2009, signs of recovery as we see in the stock markets both in US and in India and some other indicators like the relative ease in credit and in banks, as well as CAPEX investments in many corners signs of recovery are seen in spite of growing unemployment rates in US and in spite of pumping funds in the stimulus packages. I will describe it as slight recovery with cautious optimism;
Related Links
Related Case Studies
Useful links
Ad