Browse Executive Interviews
By Subject
Publishing Year
Publishing Year
Interview with Vinton G Cerf on Learning Organizations
July 2008 - By Dr. Nagendra V Chowdary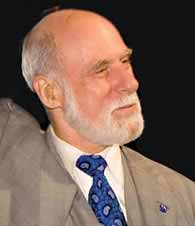 Vinton G Cerf is Vice President and Chief Internet Evangelist for Google. In this role, he is responsible for identifying new enabling technologies to support the development of advanced, Internet-based products and services from Google. He is also an active public face for Google in the Internet world. Widely known as one of the "Fathers of the Internet",Cerf is the co-designer of the TCP/IP protocols and the architecture of the Internet. He is the recipient of several national and international awards including US National Medal of Technology, ACM Alan M Turing award and the Presidential Medal of Freedom.
| | |
| --- | --- |
| The Marconi Fellowship, Charles Stark Draper award of the National Academy of Engineering, the National Medal of Science from Tunisia and the Silver Medal of the International Telecommunications Union are a few of the other awards and commendations received by him. Cerf is the former Senior Vice President of Technology Strategy for MCI. Previously, Cerf served as MCI's Senior Vice President of Architecture and Technology, leading a team of architects and engineers to design advanced networking frameworks including Internet-based solutions for delivering a combination of data, information, voice and video services for business and consumer use. | |
As Vice President of MCI Digital Information Services from 1982-1986, he led the engineering of MCI Mail, the first commercial email service to be connected to the Internet. He serves on several national, state and industry committees focused on cyber-security. He also sits on the Board of Directors for the Endowment for Excellence in Education, the Jet Propulsion Laboratory Advisory Committee and the Board of the Avanex Corporation. He also serves as 1st Vice President and Treasurer of the National Science & Technology Medals Foundation. Cerf was inducted into the National Inventors Hall of Fame in May 2006. In December, 1994, People magazine identified him as one of that year's "25 Most Intriguing People".
Useful for Understanding of:
Learning organization characteristics
Benefits that companies expect to derive out of being learning organization
Successful learning organization
Why many companies fail in being learning organization
Role of knowledge management in creating a learning organization.
| | |
| --- | --- |
| Originally Published in | Effective Executive, IUP |
| Effective Executive Reference No. | 03M-2008-07-09-06 |
| IBSCDC Reference No. | INT0047 |
| Year and Month of Publication | July 2008 |
| Keywords | Vinton G Cerf,Learning organization characteristics,Benefits that companies expect to derive out of being learning organization,Successful learning organization,Why many companies fail in being learning organization,Role of knowledge management in creating a learning organization. |
1. Learning Organization Case Study
2. ICMR Case Collection
3. Case Study Volumes
Related Links
Books by Vinton G Cerf
Related Case Studies