Browse Executive Interviews
By Subject
Publishing Year
Publishing Year
Interview with Samuel E Bodily on Decision Making
May 2008 - By Dr. Nagendra V Chowdary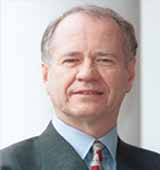 Samuel E Bodily is the John Tyler Professor of Business Administration at The Darden School, University of Virginia. He has published textbooks and an assortment of 40 practical and scholarly articles in journals ranging from Harvard Business Review to Management Science. His publications relate to decision and risk analysis, decision modeling, strategy modeling and eStrategy. He has edited special issues of Interfaces on Decision and Risk Analysis, and Interfaces on Strategy Modeling and Analysis.
| | |
| --- | --- |
| Sam has published well over 100 cases, including a couple of the 10 best-selling cases at Darden. He received the Distinguished Casewriter Wachovia award from Darden in 2005. He is faculty leader for a winning executive program Strategic Thinking and Action. He is the course-head of and teaches in a highly-valued first-year MBA course in decision analysis, has a successful second year elective Management Decision Models, and has taught eStrategy and Strategy. He is a past winner of the Decision Sciences International Instructional Award.He has taught numerous executive education programs in strategy, risk analysis, and financial decision | |
analysis for Darden and several private companies, including IBM, United Technologies Corporation, Tennessee Valley Authority, and OGE Energy Corporation.He has consulted widely for business and government entities, and has served as an expert witness. Before joining the Darden School faculty, Sam was on the faculties of MIT Sloan School of Management and Boston University. He has been a visiting professor at INSEAD Singapore, Stanford University, and the University of Washington. He has Ph.D. and S.M. degrees from Massachusetts Institute of Technology and a B.S. in Physics from Brigham Young University.
He can also be reached at BodilyS@virginia.edu
Useful for Understanding of:
Decision making a science or an art
Role of business school in preparing better decision makers
Cost of poor decision and how to avoid strategic errors in decision
Distinction between bad decisions and wrong decisions
Prerequisites for effective decision-making.
| | |
| --- | --- |
| Originally Published in | Effective Executive, IUP |
| Effective Executive Reference No. | 03M-2008-05-03-06 |
| IBSCDC Reference No. | INT0060 |
| Year and Month of Publication | May 2008 |
| Keywords | Samuel E Bodily, Decision making a science or an art, Role of business school in preparing better decision makers, Cost of poor decision and how to avoid strategic errors in decision, Distinction between bad decisions and wrong decisions, Prerequisites for effective decision-making |
1. Decision Making Case Study
2. ICMR Case Collection
3. Case Study Volumes