Executive Interviews
on Leadership
on Change Management
on Global Strategy
on Corporate Entrepreneurship
on Multicultural Teams
on Family Business
on Strategy Execution
on Collaboration
Executive Interviews: Interview with Michael Treacy on Innovation
November 2006 - By Dr. Nagendra V Chowdary

---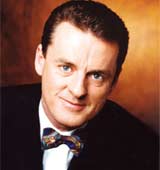 Michael Treacy
Co-founded GEN3 Partners

What was the impetus for your study "Innovation through Global Collaboration"?
The management of innovation is changing. No longer is the creation and pursuit of new ideas the bastion of large central R&D departments within vertically integrated organizations. Instead, innovations are increasingly brought to the market by networks of firms, selected according to their comparative advantages, and operating in a coordinated manner.

In this new model, organizations deconstruct the innovation value chain and source pieces from partners that possess
lower costs, better skills and/or access to knowledge that can provide a source of differentiation. The aimis to establishmutually beneficial relationships through which new products and services can be developed. Let's first start with the suggestion that DELL's death is imminent. To quote Samuel Clemens, "the reports of DELL's death have been greatly exaggerated." The truth is they have hit a lull right now in their market. This is not because they have deteriorated but because their competition has done a very, very good job of catching up. In fact, they have met most of DELL's costs and service standards in the marketplace. So, it's not so much they got worse, but that you have to give a great deal of credit to Hewlett- Packard and Lenovo for having substantially improved their business models in the last couple of years.

Second, to really understand the forces of a personal computer company you have to go a level deeper and understand the very different market segments in which they compete. Long story short: all of the profit margins in personal computing isn't in selling computers to you or me but selling computers to large corporations. They tend to buy more expensive ones that have a higher profit margin. It is the case that those customers have been shifting with their definition of what kind of value they are looking for. They used to buy on lowest unit price but they are increasingly buying on lowest life cycle price lowest cost of ownership. And while DELL's model was excellent at delivering lowest selling price, it turns out HP has been very innovative about lowering the total cost of ownership. Let me illustrate it in one simple way: today DELL tends to continue to buy many of its components on the stock market. What that means is that in a line of a single model of computers you might have a particular component that's sourced from three different companies, depending on who had the lowest price that day.

It's a good way to achieve low price, but if you're the buyer of that PC and it breaks now you have the challenge of identifying which component in the computer needs to get fixed. HP, which standardizes on components much more, focuses on the maintainability of the machine and has gotten the jump on DELL, strategically.

Let's see how the story plays out. I have nothing but the strongest admiration for DELL's management team and I have a feeling that they will be back and they'll be back with a tremendous amount of strength in a fairly short amount of time. I also happen to believe HP is a very worthy competitor; so this might be a marketplace in which both of them, and Lenovo, end up innovating a lot. The big winner will be none of them; the big winner will be the customer who is going to get significantly improved value year after year as they try to outdo each other.

In this age of increased commoditization across many industries, what is the best way forward for the companies to be at the cutting edge on the innovation front?
There are three components to stay cutting edge on the innovation front.

First and foremost, it means truly getting in touch with the main parameters of customer value so that you cannot waste efforts innovating on things that fundamentally will not move the market in your direction. I see a lot of companies wasting as much as 30-40% of their resources precisely that way.

The second thing that's important to being productive in innovation is having a methodology that allows 50th percentile people to perform at 90th percentile level as a team. The methodology that we use, for example, at GEN3 Partners, focuses on root cause analysis. Our methodology focuses on functional analysis of how value is driven and the ability to decompose it into the functional components that are allowing you to achieve that level of performance. That then leads to the next thing which is how do I innovate on that functional structure to take it to a whole new level. So, the second piece is to have a structured, rigorous, analytical methodology for innovation.

The third piece is about people. I'll simply point out that we all understand that as you go from a 50th to a 75th to a 90th percentile person, there are accelerating returns on their performance. There is tremendous power in the innovation space to having the best people. However, we in the innovation space have to realize that there are three very different kinds of experts. There are those experts that we call "technologists." These people, for example, understand everything about a pump or supply chain or a technical component of the business. The second kind of expert is what I call a functional expert. Whereas, the technologist expert might be an expert about a pump, a functional expert knows everything about how to move a liquid. What it means is that they understand a vast array of different technologies that can achieve the same function. They perhaps know dramatically broad technologies that can get you to the same result, and they are constantly scanning for new and different technologies from other industries that can do that.

The third expert is an innovation expert. They may not be very technically grounded or may not be functional experts, but they understand the process of innovation. What I see in too many organizations is that organizations don't discriminate between these three experts. They assume, often incorrectly, that if you're technologically strong you're probably an innovator.

So, the three components for getting high performance is: identifying the main parameters of value so that there's no wasted effort; building methodology that is structured, analytical and gives you productivity improvement on how you innovate and; focusing on your people. It's not just about the best and brightest, it's about understanding what capabilities they bring to the table and knowing when to use their expertise.
1. ICMR Innovation Case Studies
2. ICMR Case Collection
3. Case Study Volumes