Browse Executive Interviews
Subject wise
Publishing Year
Publishing Year
Interview with Nirmalya Kumar on Private Labels
April 2008 - By Dr. Nagendra V Chowdary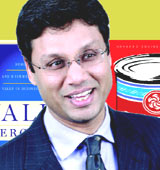 Nirmalya Kumar is Professor of Marketing, Faculty Director for Executive Education, Director of Centre for Marketing, and Co Director of Aditya Birla India Centre at London Business School.
Kumar received his B.Com. from Calcutta University, his MBA from the University of Illinois at Chicago, and his PhD in marketing from Kellogg Graduate School of Management (winning the Marketing Science Institute's Alden G. Clayton Award for his PhD
dissertation). He has taught at Harvard Business School, IMD (Switzerland), and Northwestern University and has worked with more than 50 Fortune 500 companies in 50 different countries as coach, seminar leader and speaker on strategy, marketing, branding, retailing and distribution. He has served on the board of directors of Bata India, BP Ergo, Zensar Technologies and currently serves on boards of ACC, Ambuja Cements, and Defaqto.

Kumar has made several press appearances on news channels like BBC, CNBC and CNN and has been featured in BusinessWeek, Financial Times, International Herald Tribune,
and Wall Street Journal. He has authored,"Global Marketing" (Businessworld) as well as Marketing as Strategy: Understanding the CEO's Agenda for Driving Growth and Innovation, Private Label Strategy: How to Meet the Store Brand Challenge (with J-B. Steenkamp) and Value Merchants: Demonstrating and Documenting Superior Value in Business Markets (with J. Anderson and J. Narus), all published by Harvard Business School Press. He has published four articles for the Harvard Business Review, most recently"Strategies to Fight Low-Cost Rivals". His academic papers and articles have appeared in Academy of Management Journal, Journal of Marketing, and Journal of Marketing Research. These articles have received more than 1200 citations. He has also written more than 40 cases and teaching notes for Amazon, Red Bull, Zara, and Wal-Mart.
Kumar has won three BusinessWeek/ ECCH awards for most adopted cases. He has also won several teaching honors, including achievement of BusinessWeek's highest four star faculty rating in their 1993 guide to MBA programs.
He can also be reached at nkumar@london.edu
Useful for Understanding of:
Private Labels
Manufacturer brands Vs Private Labels
Private label share and retail consolidation
Growth of Private Labels
Private Labels Vs other brands
Private label share in countries like Europe, China and Japan.
| | |
| --- | --- |
| Originally Published in | Effective Executive, IUP |
| Effective Executive Reference No. | 03M-2008-04-04-06 |
| IBSCDC Reference No. | INT0015 |
| Year and Month of Publication | April 2008 |
| Keywords | Nirmalya Kumar, Private Labels, Manufacturer brands Vs Private Labels, Private label share and retail consolidation, Growth of Private Labels, Private Labels Vs other brands, Private label share in countries like Europe, China and Japan |
1. Private Labels Case Study
2. ICMR Case Collection
3. Case Study Volumes