Browse Executive Interviews
By Subject
Publishing Year
Publishing Year
Interview with Anil K Khandelwal on Rebranding Strategies of Bank of Baroda
June 2006 - By Dr. Nagendra V Chowdary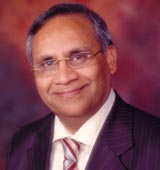 Anil K Khandelwal Chairman and Managing Director, Bank of Baroda, has over three decades of banking experience. A chemical engineer with an MBA and a degree in Law, he also holds a Doctoral Degree inManagement. He is also a Fellow of the Indian Institute of Banking and Finance.
Dr. Khandelwal was also the Chairman and Managing Director of Dena Bank for a year till February 2005, before he took over as the Chairman and Managing Director of Bank of Baroda. During his tenure at Dena Bank, he had successfully piloted the turnaround of the Bank.
Prior to this, he was the Executive Director at Bank of Baroda since 2000. During his career at Bank of Baroda, he has also held several important positions.
Dr. Khandelwal besides being an astute banker, has also been closely associated with HRD movement in the country and is one of the founder members of National HRD Network. He authored the first book on HRD in Banks. He was selected as HRD consultant by the United Nations to work on a project for the Presidential Commission on Banking, Tanzania.
In recognition of his application of HRD interventions in business situations, he was awarded the coveted NationalAward of "Best Hrd Chief" by the National HRD Network. The Conference of Intellectuals awarded him the "Great Son of the Soil" award. He has also been the recipient of the "Grid Leadership Award" for Excellence in Corporate Management in 2004. Recently, the The Economic Times, Corporate Dossier (December 16, 2005) has named him as the 36th among "The 100 Most Powerful CEOs" in the country and he is perhaps the only Public Sector Bank Chief to find a place in the list.
Useful for Understanding of:
Recruitment and Training
How a Public Sector can be made Market-Savvy
Rebranding Strategies
Resistance to Change and Managing Resistance to Change
Revitalising a Corporate House
Bank of Baroda
Indian Banking System
Banking Regulation Act, 1949.
| | |
| --- | --- |
| Originally Published in | Global CEO, IUP |
| Global CEO Reference No. | 15M-2006-06-01-01 |
| IBSCDC Reference No. | INT0081 |
| Year and Month of Publication | June 2006 |
| Keywords | Anil K Khandelwal, How a public sector can be made Market-Savvy, Rebranding Strategies, Resistance to change and managing Resistance to Change, Revitalizing a Corporate House, Bank of Baroda, Rahul Dravid, Indian Banking System, Banking Regulation Act, 1949 |
1. Rebranding Strategies Case Study
2. ICMR Case Collection
3. Case Study Volumes
Related Links
Related Case Studies