Browse Executive Interviews
By Subject
Publishing Year
Publishing Year
Interview with Anil K Gupta on Knowledge Management
June 2008 - By Dr. Nagendra V Chowdary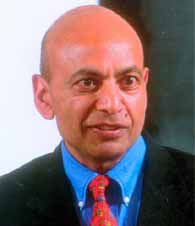 Anil K Gupta is widely recognized as one of the world's leading experts on strategy and globalization. He is the Ralph J Tyser Professor of Strategy and Organization at the Smith School of Business, The University of Maryland at College Park. He received a doctorate from Harvard Business School, an MBA from the Indian Institute of Management at Ahmedabad, and a B.Tech. from the Indian Institute of Technology at Kanpur. Professor Gupta is the author, co-author, or co-editor of over seventy papers and three books: The Quest for Global Dominance (Jossey-Bass, 2008), Smart Globalization (Jossey-Bass,
2003), and Global Strategy and Organization (John Wiley, 2003). Financial Times has published four of Professor Gupta's papers in a series on "Mastering Global Business." The Wall Street Journal has also published an invited full-page article by Professor Gupta on "Getting China and India Right." His new book titled The Battle for China and India will be published by Jossey-Bass/Wiley in January 2009.

Useful for Understanding of:

Concepts of Knowledge Management and the importance of Knowledge Management initiatives
Knowledge creation and acquisition and Knowledge sharing and mobilization
Pathologies and challenges in knowledge accumulation and knowledge sharing
Components of Knowledge Management strategy
Challenges in implementing an effective Knowledge Management Program.
| | |
| --- | --- |
| Originally Published in | Effective Executive, IUP |
| Effective Executive Reference No. | 03M-2008-06-09-06 |
| IBSCDC Reference No. | INT0046 |
| Year and Month of Publication | June 2008 |
| Keywords | Anil K Gupta, Concepts of KM and the importance of KM initiatives, Knowledge creation and acquisition and knowledge sharing and mobilization, Pathologies and challenges in knowledge accumulation and knowledge sharing, Components of KM strategy, Challenges in implementing an effective KM Program. |
1. Knowledge Management Case Studies
2. ICMR Case Collection
3. Case Study Volumes