Browse Executive Interviews
By Subject
Publishing Year
Publishing Year
Interview with Alan MacCormack on Collaboration
March 2008 - By Dr. Nagendra V Chowdary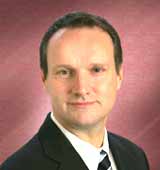 Alan MacCormack is an Associate Professor in the Technology and Operations Management area at the Harvard Business School. His research examines the management of technology and innovation in hightechnology industries, with a particular emphasis on the software industry. Among recent studies, he has explored the design of effective processes for developing new products in the face of uncertainty; and developed methods to measure the impact of "architectural" design decisions on product performance and evolution. His work has been
published in a variety of leading journals including Harvard Business Review, Sloan Management Review, Management Science, and IEEE Software. The author of over 50 cases and teaching notes, Alan has worked with leading organizations like Intel, Microsoft and General Motors to help develop better approaches to the management of innovation, assessing how these firms can sense emerging threats to their core businesses and exploit new opportunities for value creation.
Alan received his doctorate from Harvard Business School in 1998, where he was a recipient of the George S Dively award for distinguished research. He holds a Masters degree in Management
from MIT's Sloan School of Management, and a B.Sc. in Electrical Engineering from the University of Bath in England. He currently teaches an MBA elective course titled "Managing Innovation and Product Development," which explores how firms can systematically identify and exploit new innovation opportunities.
He can also be reached at amaccormack@hbs.edu
Useful for Understanding of:
Innovation through global collaboration
Trends that drive to collaborative approaches
Principles for successful collaboration
How firms collaboration effort support their business strategy
How firms collaboration effort support their business strategy
Potential of areas of conflict in collaboration initiatives
| | |
| --- | --- |
| Originally Published in | Effective Executive, IUP |
| Effective Executive Reference No. | 03M-2008-03-10-06 |
| IBSCDC Reference No. | INT0053 |
| Year and Month of Publication | March 2008 |
| Keywords | Alan MacCormack, Innovation, global collaboration, collaborative approaches, collaboration, business strategy, collaborative capabilities, collaboration initiatives |
Related Links
Related Case Studies
Ad