Browse Executive Interviews
By Subject
Publishing Year
Publishing Year
Interview with William J Holstein on Emerging Markets
February 2008 - By Dr.Nagendra V Chowdary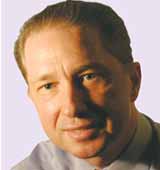 William J Holstein is an awardwinning editor, author and journalist on subjects affecting chief executive officers and boards of directors. He is a columnist for The New York Times business section. He has spent 30 years specializing in global business issues and his areas of interest include innovation, competitiveness and governance.
He conducts Saturday interviews for The New York Times as well as writes book reviews and Economic View columns for the Sunday business section.
| | |
| --- | --- |
| He also writes for Barron's, Corporate Board Member, Dealmaker, Fortune and Strategy & Business. His Armchair MBA column appears biweekly on BusinessWeek.com and his "From the Corner Office" postings appear on BNET, the new business network of CNET.Holstein has authored the critically acclaimed The Japanese Power Game and co-authored Rags to Riches, a brief history of the Cintas Corporation with its Chairman Richard T. Farmer. Harvard Business School Press will be publishing his new work Memo to CEOs: Manage the Media in early 2008. | |
He has served on the boards of many esteemed organizations and is a renowned and sought-after speaker. On the basis of his extensive travel in southern China and writing about China's economic modernization drive, he won the Overseas Press Club award in 1980 for best overseas economic reporting.
Holstein has served as Editor in Chief of magazines like Directorship and Chief Executive magazine. He has also served as Editor at Large, at Business 2.0 besides freelancing for Fortune, The New York Times, Business 2.0, Chief Executive, Corporate Board Member and Politique Internationale. He has also held the positions of Senior Writer at US News & World Report, World Editor at BusinessWeek, Director, Corporate Writing, with American Express, and Correspondent and editor with United Press International. He is a National Merit Scholar who graduated with honors from Michigan State University with degree in European intellectual history.
He can also be reached at Bholstein2001@yahoo.com
Useful for Understanding of:
Growth in emerging markets
MNC's in emerging markets: The success and failures
Critical success factor for operating in emerging markets
Piracy and intellectual property rights in china.
| | |
| --- | --- |
| Originally Published in | Effective Executive, IUP |
| Effective Executive Reference No. | 03M-2008-02-13-06 |
| IBSCDC Reference No. | INT0065 |
| Year and Month of Publication | February 2008 |
| Keywords | William J Holstein, Growth in emerging markets, MNC's in emerging markets: The success and failures, Critical success factor for operating in emerging markets, Piracy and intellectual property rights in china |
1. Emerging market Case Study
2. ICMR Case Collection
3. Case Study Volumes
Related Links
Books by William J Holstein
William J Holstein's weblinks
Related Case Studies