Browse Executive Interviews
By Subject
Publishing Year
Publishing Year
Interview with Venkat Ramaswamy on Co-Creation
April 2010 - By Dr. Nagendra V Chowdary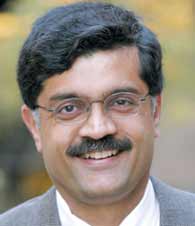 Venkat Ramaswamy is Professor of Marketing and Hallman Fellow of Electronic Business at Ross School of Business, University of Michigan. He is also Director of Executive Education, Global Co-Creation Community Founder, and Chief Mentor, Experience Co-Creation Partnership. He is a prolific author of numerous articles including the co-authored (with C K Prahalad) highly acclaimed Harvard Business Review article "Coopting Customer Competence" and the 2004 MIT-Price WaterhouseCoopers award-winner "The New Frontier of Experience Innovation", published in the Sloan Management Review. He also co-authored with CK Prahalad the acclaimed book The Future of Competition: Co-creating Unique Value with Customers (Harvard Business School Press, 2004), selected as one of the Top 10 Business books of 2004 by BusinessWeek and Strategy & Business as one of the best strategy books of 2004.
His latest book (co-authored with Francis Gouillart) is Co-Creating the Future: The Power to Ignite Sustainable Growth. Venkat's eclectic interests span innovation, marketing, customer experiences, operations, IT, HR, and strategy. His current research focuses on exploring the "next practices" in value creation through co-creation, innovating engagement platforms and experience environments around interactions, customer communities and nodal company networks, and developing management systems for organizations to compete through co-creation.
Useful for Understanding of:
Co- Creation
Customer Involvement
Personalization Vs Customization
Value propositions & value Creation
Leveraging on Customer competencies.
| | |
| --- | --- |
| Originally Published in | Effective Executive, IUP |
| Global CEO Reference No. | 03M-2010-04-05-06 |
| IBSCDC Reference No. | INT0126 |
| Year and Month of Publication | April 2010 |
| Keywords | Venkat Ramaswamy, Co- Creation, Future of Competition, C. K. Prahlad, Venkat RamaSwamy, Value Creation, Co- Creation as Competitive advantage, Customer Competencies, Rethinking Marketing, Collabration & Co- Creation |
Related Links
Books by Venkat Ramaswamy