Browse Executive Interviews
Subject wise
Publishing Year
Publishing Year
Interview with Shantanu Dutta on Building Trust
January 2011 - By Dr. Nagendra V Chowdary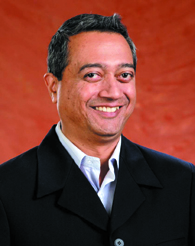 Shantanu Dutta is currently the Vice Dean for Graduate Programs at Marshall School of Business USC. He is the Dave and Jeanne Tappan Professor of Marketing. He received his PhD from University of Minnesota. He has done extensive research on Strategic Marketing issues. In particular, he has studied how firms can use distribution, strategic partnerships and pricing capabilities to build competitive advantage. For instance, he has explored the capabilities that firms need to develop in order to price in a strategic manner. Prior to joining the Marshall School of Business, he was on the faculty at The University of Chicago. He was also visiting Professor at London Business School.
He has published extensively on these topics in leading marketing, economics, law and strategy journals. His work is widely cited in leading marketing, economics and strategy journals. He has also been invited to talk in these topics at: National Bureau of Economics Research (NBER), Cambridge Mass; Marketing Science Institute Board of Trustees Meeting; American Marketing Association (AMA). He has also been interviewed and his research cited in Financial Times and The Economist.

He has also taught several executive classes on these topics and/or consulted for companies like BP Amoco, Abbott Laboratory,
Motorola, Distribution Economics Institute of Japan, IEXE Mexico, 3M, Marks & Spencer, Nokia, and Vodafone among others.
Useful for Understanding of:
Importance of 'building trust' among customers
Ways to 'build trust' and challenges
Trust-related lessons from the financial crisis 2008
| | |
| --- | --- |
| Originally Published in | Effective Executive, IUP |
| Effective Executive Reference No. | 03M-2011-01-06-06 |
| IBSCDC Reference No. | INT0142 |
| Year and Month of Publication | January 2011 |
| Keywords | Shantanu Dutta, Future of Higher Education, Building Trust, Customers, Online Business, Challenges in Building Trust |
1. ICMR Innovation Case Studies
2. ICMR Case Collection
3. Case Study Volumes
Related Links
Books by Curtis R Carlson
Related Case Studies