Browse Executive Interviews
By Subject
Publishing Year
Publishing Year
Interview with Roland T Rust on Co-Creation
March 2010 - By Dr. Nagendra V Chowdary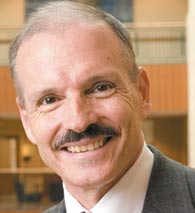 Roland T Rust is Distinguished University Professor and David Bruce Smith Chair in Marketing at the Robert H Smith School of Business at the University of Maryland, where he is founder and Executive Director of two research centers—the Center for Excellence in Service and the Center for Complexity in Business. His lifetime achievement honors include the American Marketing Association's Gilbert A Churchill Award for Lifetime Achievement in Marketing Research, the Distinguished Marketing Educator Award from the Academy of Marketing Science, the Outstanding Contributions to Research in Advertising award from the American Academy of Advertising, the AMA's Career Contributions to the Services Discipline Award, Fellow of the American Statistical Association, the Elsevier Distinguished Marketing Scholar Award from SMA, and two distinguished doctoral alumnus awards from the University of North Carolina at Chapel Hill.
He has won best article awards for articles published in several international journals and magazines. His book, Driving Customer Equity (written with Valarie Zeithaml and Katherine Lemon) won the Berry-AMA Book Prize for the best book in marketing. He is the founder and Chair of the AMA's annual Frontiers in Service Conference, and was founding Editor of the Journal of Service Research. He is an Academic Trustee of the Marketing Science Institute and serves on the Executive Committee of the European Marketing Academy. He is the immediate past Editor of the Journal of Marketing, and serves as an Area Editor for Marketing Science and the Journal of Marketing Research. He has consulted with many leading companies worldwide, including such companies as American Airlines, AT&T, Comcast, Dow Chemical, DuPont, Eli Lilly, FedEx, Hershey, Hewlett-Packard, IBM, Lockheed Martin, Microsoft, NASA, NCR, Nortel, Procter & Gamble, Sears, Unilever, and USAA. A national class distance runner in his collegiate days, he has been inducted into the DePauw University Athletic Hall of Fame.
Useful for Understanding of:
Co- Creation
Customer Involvement
Personalization Vs Customization
Value propositions & value Creation
Leveraging on Customer competencies.
| | |
| --- | --- |
| Originally Published in | Effective Executive, IUP |
| Global CEO Reference No. | 03M-2010-03-10-06 |
| IBSCDC Reference No. | INT0122 |
| Year and Month of Publication | March 2010 |
| Keywords | Roland T Rust, Co- Creation, Future of Competition, C. K. Prahlad, Venkat RamaSwamy, Value Creation, Co- Creation as Competitive advantage, Customer Competencies, Rethinking Marketing, Collabration & Co- Creation |
Related Links
Books by Roland T Rust
Roland T Rust's weblinks
Related Case Studies
Ad