Browse Executive Interviews
By Subject
Publishing Year
Publishing Year
Interview with Richard M Earle on Social Cause Marketing
September 2009 - By Dr. Nagendra V Chowdary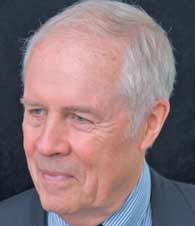 Richard M Earle is a Senior Associate with the Regis Group, Inc. of Leesburg, VA, specializing in Cause Marketing, Branding, and Advertising Evaluation. He has over 30 years experience at US advertising agencies including Doyle Dane Bernbach, Grey, and most recently, Saatchi & Saatchi, New York, where he was Executive Vice President, Group Creative Director. He wrote major campaigns for Procter & Gamble, Johnson & Johnson, and Revlon, and created advertising for over 50 national brands. He also created or supervised a number of award-winning public service campaigns, including the first national anti-drug campaign for NIMH, and the Keep America Beautiful 'Crying Indian' series.
Earle has recently served as advertising and branding consultant to public interest organizations such as Mass. Department of Public Health; Mass. Council on Compulsive Gambling; One Change, SmartPower, and the Clean Energy Group. He has done advertising evaluations for the California Energy Efficiency Campaign, the University of Toronto, and the US Office of National Drug Control Policy. He is a frequent lecturer on Cause Marketing and Branding at corporate and organization conferences.
A graduate of Amherst College, he is currently an Instructor at the Harvard School of Public Health where he teaches a course titled "Designing a Social Marketing Media Campaign," and is the author of the book The Art of Cause Marketing: How to Use Advertising to Change Personal Behavior and Public Policy. Richard Earle is a past President of the National Coordinating Council on Drug Education, the Arts North of Boston Alliance, and is currently the President of the Cape Ann Symphony in Massachusetts.
Useful for Understanding of:
What is Social Cause Marketing?
Examples of successful global Social Cause Marketing initiatives
Difference between Social Cause Marketing initiative and Corporate Social Responsibility initiative
Scope of adaptability for Social Cause Marketing
| | |
| --- | --- |
| Originally Published in | Effective Executive, IUP |
| Effective Executive Reference No. | 03M-2009-09-08-06 |
| IBSCDC Reference No. | INT0110 |
| Year and Month of Publication | September 2009 |
| Keywords | Richard M Earle, What is Social Cause Marketing?, Examples of successful global Social Cause Marketing initiatives, Difference between Social Cause Marketing initiative and Corporate Social Responsibility initiative, Scope of adaptability for Social Cause Marketing |
Related Links
Book by Richard M Earle
Useful links
Ad