Browse Executive Interviews
By Subject
Publishing Year
Publishing Year
Interview with Miguel Angel Gardetti on Bottom of the Pyramid
November 2008- By Dr. Nagendra V Chowdary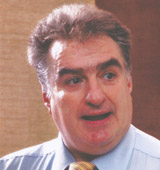 Miguel Angel Gardetti has his PhD in Environmental Management (Pacific Western University, CA, USA). He also has two master's degrees, the first one in Business Administration from the Instituto de Altos Estudios Empresariales, IAE Universidad Austral, Buenos Aires and the second one in Environmental Studies and Sustainable Development (Universidad de Ciencias Empresariales y Sociales, Buenos Aires). He is the Director of the Instituto de Estudios para la Sustentabilidad Corporativa (IESC) [Center for Study of Corporate Sustainability] and also head professor of MBA and master's programs both in Argentina and abroad. He teaches Business Strategy and Sustainable Development and Base of the Pyramid (Inclusive Business).
| | |
| --- | --- |
| His work has been published in a variety of leading journals including Harvard Business Review, Sloan Management Review, Management Science, and IEEE Software. The author of over 50 cases and teaching notes, Alan has worked with leading organizations like Intel, Microsoft and General Motors to help develop better approaches to the management of innovation, assessing how these firms can sense emerging threats to their core businesses and exploit new opportunities for value creation. | |
Useful for Understanding of:
BOP markets and their unique characteristics
BOP markets fad or big marketing opportunities
Base of pyramid learning lab and its objectives
Organizational changes required for MNCs to tap the BOP markets.
| | |
| --- | --- |
| Originally Published in | Effective Executive, IUP |
| Effective Executive Reference No. | 03M-2008-11-03-06 |
| IBSCDC Reference No. | INT0023 |
| Year and Month of Publication | November 2008 |
| Keywords | Dr. Miguel Angel Gardetti, BOP markets and their unique characteristics, BOP markets fad or big marketing opportunities, Base of pyramid learning lab and its objectives, Organizational changes required for MNCs to tap the BOP markets |
1. Bottom of the Pyramid Case Study
2. ICMR Case Collection
3. Case Study Volumes