Browse Executive Interviews
By Subject
Publishing Year
Publishing Year
Interview with Kamal Singh on Women Executives
July 2007 - By Dr. Nagendra V Chowdary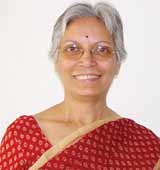 Kamal Singh formerly worked with the British Council as Head, Governance & Social Justice, India. She was awarded an "MBE" by the UK government in 2002 for her work in women's empowerment. Kamal is very interested in issues of equality, diversity, law and justice
She is a result-oriented team leader with excellent skills in project/training design and management, contract negotiation and management, strategic planning, networking and relationships building.
| | |
| --- | --- |
| She has extensive experience in developing partnerships with key influencers and decision-makers in central/state governments, institutions, academics and NGOs in India. She has also worked for several international agencies in the fields of women's rights, child rights, governance, social justice and corporate social responsibility. Kamal Singh possesses good analytical, communication and interpersonal skills and has extensive experience in financial management, systems and project monitoring. | |
She has a commendable track record of growing the reputation of both British Council and UK with a range of partners and clients like UK's Department for International Development, Foreign & Commonwealth Office, European Union, Ford Foundation and UNDP (through Department of Administrative Reforms).
Singh co-edited Development of Micro enterprises by Women, a collection of case studies and papers presented at the Regional Workshop on Micro enterprises by women, organized by the British Council jointly with IIM Ahmedabad in 1992. She designed Perceptions on Gender, a British Council publication of the creative poster competition and She too can build and mould the nation, a training manual for elected women councillors in Punjab. She has also compiled project documentation of HumanRights and Prisons Management and Counselling skills for agents of social change, with key learning materials. Singh has written several articles relating to gender issues in British Council in-house publications, such as The Network Newsletter.
She can also be reached at Kamal.singhis@hotmail.com
Useful for Understanding of:
Role of Society
Role of leaders
Gender Discrimination
Women Entrepreneurship.
| | |
| --- | --- |
| Originally Published in | Effective Executive, IUP |
| Effective Executive Reference No. | 03M-2007-07-09-06 |
| IBSCDC Reference No. | INT0077 |
| Year and Month of Publication | July 2007 |
| Keywords | Kamal Singh, Role of Society, Role of leaders, Gender Discrimination, Woman Entrepreneurship |
1. Women's Western Wear Market Case Study
2. ICMR Case Collection
3. Case Study Volumes
Related Links
Related Case Studies