Browse Executive Interviews
Subject wise
Publishing Year
Publishing Year
Jessica Lipnack and Jeffrey Stamps on Building High Performance Teams
May 2009 - By Dr. Nagendra V Chowdary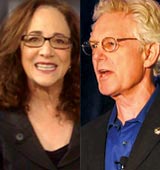 Jessica Lipnack and Jeffrey Stamps Jessica Lipnack, CEO, and Jeffrey Stamps, PhD, Chief Scientist, are co-founders of NetAge. For three decades, Jessica and Jeff have provided expertise and tools that allow their clients to collaborate more effectively. NetAge's pioneering initiatives are in use in companies, public sector organizations, non-profits, and religious denominations.
Jessica and Jeff's research and practical experience have taken them around the world. Their clientele include American Management Association, Assurant, Apple Computer, AT&T Universal Card Services, GlaxoSmithKline, General Electric, Hewlett-Packard, Intel, Merck, Pfizer, Presbyterian Church (USA), Roche, Royal Dutch Shell, Toyota Foundation, The United Nations, Unilever, the US Army, US Joint Forces, and Volvo, to name a few.
Their six books, including Virtual Teams, The Age of the Network, and The TeamNet Factor (all Wiley), have been translated into many languages. Recent works include The Virtual, Networked Organization, the final chapter in The Handbook of High Performance Virtual Teams (Jossey-Bass, 2008).
Some landmark events in their career include: In 1984, they served as faculty for the first online global executive education program sponsored by the Western Behavioral Science Institute, La Jolla, California. In 1993, they helped design, facilitate and launch NetResults, the first electronic cross-agency network for the US government employees linking thousands swapping ideas on how to reinvent government. In 1994, they launched netage.com an early website now in its fourteenth year. In 1995, they co-founded MassNet: Collaboration for the Commonwealth, a cross-sectoral effort to encourage collaboration among Massachusetts business, government, nonprofits, and educational institutions. Peter Drucker was the keynote speaker at the inaugural event held at The Computer Museum in Boston. In a 1996 ceremony at the John F Kennedy Library, they jointly received the 21st Century Leadership Award from First Community Bank of BankBoston. In 1999, they keynoted the US Intelligence Community's Fourth Annual Conference on Collaboration. In 2002, they introduced Livelink virtualteams, a collaboration software for virtual teams, based on NetAge's methodology, developed in partnership with Open Text Corporation. In 2003, they signed a partnership agreement with Inxight Corporation to develop OrgScope, NetAge's organizational network display and analysis software. Howard Rheingold's The Virtual Community cites them as pioneers in electronic communication. In 2005, they participated in the design and delivery of the first "jam" outside IBM's pioneering efforts, helping to produce a 48-hour online conversation among 5000 people in a European company.
Since 1995, Jessica has served on the Board of Directors of Freedom House, Inc., a 60-year-old Boston-based nonprofit providing leadership and technology initiatives in the city of Boston, where Jessica has co-chaired the board and on which board Jeff also served for ten years, and, from 1982-2005, both she and Jeff served on the Advisory Council of the Calvert Social Investment Fund. Jessica is a graduate of Antioch College and has served as a trustee for Antioch University.
Useful for Understanding of:
Virtual teams and their unique characters
Critical success factors of virtual team
High performance teams and their characteristics
High performance teams in crisis times
| | |
| --- | --- |
| Originally Published in | Effective Executive, IUP |
| Effective Executive Reference No. | 03M-2009-05-16-06 |
| IBSCDC Reference No. | INT00102 |
| Year and Month of Publication | May 2009 |
| Keywords | Jessica Lipnack and Jeffrey Stamps, Virtual teams and their unique characters, Critical success factors of virtual team, High performance teams and their characteristics, High performance teams in crisis times |
Related Links
Books by Jessica Lipnack and Jeffrey Stamps
Jessica Lipnack and Jeffrey Stamps weblinks
Related Case Studies
Ad