Browse Executive Interviews
Subject wise
Publishing Year
Publishing Year
Interview with Jeff Gee on Competing for Customers
September 2006 - By Dr. Nagendra V Chowdary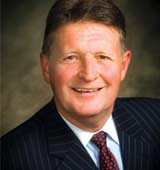 Jeff Gee is one of the most captivating and humorous speakers. He is the co author of an awakening book, Super Service: Seven Keys to Delivering Great Customer Service, Even WhenYou Donot Feel Like It! Even When They Donot Deserve It! His remarkable programof the same name has been revered as one of the Best Ever! by such companies as Motorola, Computer Associates, Abbott Laboratories, Pepsi, MB Financial, CDW, and Siemens. He brought his successful training company, MJ Learning, to the US from England in 1983. He authored the books The Customer Service Training Tool Kit: 60 Activities for Delivering Super
Service to Customers, The Winner's Attitude, and Investing Time: Investing Time for Your Life. He has co authored Pillars of Success with Alexander Haig and Pat Summitt and Mission Possible with Steven Covey and Brian Tracy.

Useful for Understanding of:

Customer Loyalty
The importance of Innovation
Customer Service
Customer Relationship Management
The difference between Customer Equity and Customer Loyalty
How to manage irate Customer.
| | |
| --- | --- |
| Originally Published in | Effective Executive, IUP |
| Effective Executive Reference No. | 03M-2006-09-10-06 |
| IBSCDC Reference No. | INT0044 |
| Year and Month of Publication | September 2006 |
| Keywords | Jeff Gee, Customer Loyalty, Customer Service, Customer Relationship Management, The difference between customer equity and customer loyalty, How to manage irate Customer |
1. Competing with Contrasting Strategies Case Study
2. ICMR Case Collection
3. Case Study Volumes