Browse Executive Interviews
Subject wise
Publishing Year
Publishing Year
Interview with Harish Bijoor on Managing Troubled Times
March 2009 - By Dr. Nagendra V Chowdary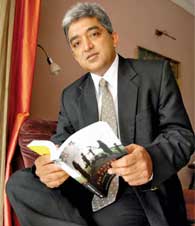 Harish Bijoor is a Brand domain specialist operating out of Bangalore. He runs a unique boutique consulting outfit branded Harish Bijoor Consults Inc., a brand name that has a consulting presence across the markets of Hong Kong, Seattle, London, Dubai and the Indian sub-continent. He spent the most recent 18 months of his career as the Chief Operating Officer, Zip Telecom Limited. He had earlier worked at Tata Coffee Limited., and Hindustan Lever Limited. He is a member of many active coffee forums in India and delivers lectures on the subject both in India and abroad. He is a member of the Coffee Board of India under
| | |
| --- | --- |
| His work has been published in a variety of leading journals the auspices of the Union Ministry of Commerce. He is also an active member of the Plantations sub-committee of the Planning Commission for the formulation of the XIth Five year Plan(2007-12). Harish has recently published a book titled, Marketing Trends – Smart Insights into the world of Indian Business a book written in a style that is distinctly young! He is currently working on his second book on core-branding. He is a member on the Board of Directors of a clutch of companies and his passion lies in the arena of good Corporate Governance. He teaches at the Indian School of Business, | |
Hyderabad (Ranked No. 20 among Global Business schools by Financial Times, London) and is a much sought-after public speaker.
Useful for Understanding of:
Zero Solicit Consulting Practice
Assessment of Indian Retail Industry and critical success factor of this industry
Effects of US financial crisis on Indian companies and Indian consumer psyche.
| | |
| --- | --- |
| Originally Published in | Effective Executive, IUP |
| Effective Executive Reference No. | 03M-2009-03-05-06 |
| IBSCDC Reference No. | INT0091 |
| Year and Month of Publication | March 2009 |
| Keywords | Harish Bijoor, Zero Solicit Consulting Practice ,Assessment of Indian Retail Industry and critical success factor of this industry, Effects of US financial crisis on Indian companies and Indian consumer psyche. |
1. Troubled Times Case Study
2. ICMR Case Collection
3. Case Study Volumes
Related Links
Harish Bijoor's weblinks
Related Case Studies