Browse Executive Interviews
Subject wise
Publishing Year
Publishing Year
Elaine Eisenman on Managing Downturn without Downsizing
June 2009 - By Dr. Nagendra V Chowdary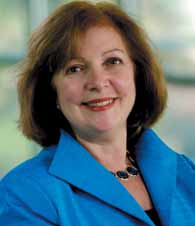 Dr Elaine Eisenman is Dean at Babson Executive Education. In this role, she is a member of the Babson President's Cabinet, and is responsible for the growth of the Executive Education Division, currently rated #6 for global executive education programs by the Financial Times. Eisenman is also responsible for the management of the top-rated Babson Executive Conference Center.
Her career includes experience as a business leader and general manager, HR executive, private and public Board member, and organizational consultant. Her areas of expertise include executive selection, transition, and succession, and the alignment of strategy, selection, compensation, and performance during periods of growth and transformation. Additionally, she has managed the human side of acquisition and integration through multiple acquisitions for three companies. She was an invited member of the McKinsey Task force that created the groundbreaking work on the 'War for Talent'. As both a board member and board consultant, she has extensive experience in corporate governance and is a frequent speaker on corporate governance issues, focusing on boardroom dynamics, CEO succession, and the role of the compensation committee. Recently, she keynoted a governance conference on the topic of "How Boards Can Avoid Being Blindsided".
Recently, Eisenman was interviewed on ABC's 20/20 on the topic of failure as a foundation of entrepreneurial success. She has been a featured speaker at a number of conferences and workshops, radio and television shows on topics ranging from "How Businesses Can Avoid Being Blindsided" to 'Successful Risk-taking'. She is a member of the Boards of Directors of DSW, Inc. and Active International and is on the advisory boards of the Outstanding Directors Exchange (ODX), American Airlines and Nina McLemore. For nine years, she served on the board of UST Inc. She has also served on a number of private and not-for-profit boards and advisory boards and is a founding member and member of the board of Women Corporate Directors and The Belizean Grove. Eisenman has held senior executive positions at both public companies such as American Express, Enhance Financial Services Co., and The Children's Place, and private companies such as PDI International, a global consulting firm, where she was general manager of the Northeast region, and Management & Capital Partners, a retained executive recruitment, management consulting, and venture capital firm, where she was chairman. She is the co-author of, I Didn't See It Coming: The Only Book You'll Ever Need to Avoid Being Blindsided in Business, published by John Wiley and Sons. Her article, "Power in the Post-Sarbanes Oxley Boardroom" was published in Directorship magazine. Her article, "Public Policy: Enabler or Inhibitor of Entrepreneurial Companies," is included in the Praeger series on Entrepreneurship. Her article, "Why CEOs Become Blindsided," was published in Chiefexecutive.net. She has been featured in interviews by WSJ Agenda, Directorship, and Board Member.
Eisenman earned a PhD in Industrial/Organizational Psychology from New York University, and an MS from Columbia University.
Useful for Understanding of:
Job Preservation schemes and Job creation schemes
Challenges in allowing employees to Work from Home
How to manage downturn without downsizing
HR department's role in business response to economic downturn
| | |
| --- | --- |
| Originally Published in | Effective Executive, IUP |
| Effective Executive Reference No. | 03M-2009-06-06-06 |
| IBSCDC Reference No. | INT0103 |
| Year and Month of Publication | June 2009 |
| Keywords | Elaine Eisenman, Job Preservation schemes and Job creation schemes, Challenges in allowing employees to Work from Home, How to manage downturn without downsizing, HR department's role in business response to economic downturn |
Related Links
Books by Elaine Eisenman
Related Case Studies
Ad