Browse Executive Interviews
Subject wise
Publishing Year
Publishing Year
Dr. Bolko V Oetinger on Business Model Innovation
April 2009 - By Dr. Nagendra V Chowdary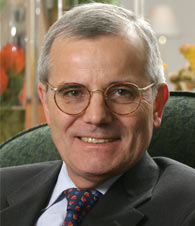 Dr. Bolko V Oetinger holds a master's degree in Political Science and received his doctorate from the Faculty of Economics and Social Affairs at the Free University of Berlin and an MBA from the Stanford Graduate School of Business. He joined The Boston Consulting Group in 1974 in Menlo Park, California, led its German operations from 1981 to 1992 and served on the firm's management and executive committee from 1983 to 1995. He was the head of BCG's worldwide marketing operations from 1994 to 1997. In 1998 he founded the firm's Strategy Institute, whose director he had been until March 2008. The major focus of his client work has been the question of renewal, innovation, strategy and organization. Von Oetinger has written several articles and books on strategic thinking and innovation. From 1999 to 2004, he was a member of the Advisory Board of the Stanford Graduate School of Business. In early 2004, he was appointed honorary Professor at the WHU Koblenz. After retiring from BCG, he now serves the firm as a Senior Advisor. He is on the board of several non-profit organizations.
Useful for Understanding of:
Relationship between spatial thinking and strategy
Concept of 'centre and periphery'
What is polycentrism?
Business model innovation and its critical components
Difference between business plan and business model.
| | |
| --- | --- |
| Originally Published in | Effective Executive, IUP |
| Effective Executive Reference No. | 03M-2009-04-04-06 |
| IBSCDC Reference No. | INT0096 |
| Year and Month of Publication | April 2009 |
| Keywords | Dr. Bolko V Oetinger, Relationship between spatial thinking and strategy, What is polycentrism?, Business model innovation and its critical components, Difference between business plan and business model. |
Related Links
Books by Dr.Bolko von Oetinger

Clausewitz on Strategy : Inspiration and Insight from a Master Strategist

"One might rightly be taken aback that a woman would dare write a preface for such a work as this..."(more)
Dr.Bolko von Oetinger's weblinks
Related Case Studies