Browse Executive Interviews
By Subject
Publishing Year
Publishing Year
Interview with David Conklin on Government and Business
January 2010 - By Dr. Nagendra V Chowdary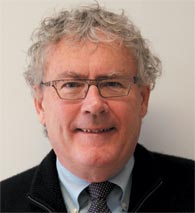 David Conklin is a professor at the Richard Ivey School of Business where he teaches courses in the Environment of Business and Business in a Political World. His courses examine the ways in which the social, technological, economic, and political forces differ among countries, creating opportunities and challenges for businesses. Increasingly these courses have come to focus on the competitive advantage of nations and the implications for international trade and investment decisions. For both businesses and Business Schools, the relevant environment of business is increasingly global.
Conklin has been a visiting professor in many countries, in Economics and Political Science Departments as well as in Business Schools. He has worked in the civil service and research institutes as well as in the private business sector. He has undertaken research, teaching, and consulting projects for MNE's, financial institutions, individual governments, and international governmental agencies.
Conklin's PhD is in Economics from MIT. His publications focus on the interface between corporations and public policies. He has published 90 business cases and has edited 16 published conference proceedings. His 10 books include: Soviet Profit Reforms, Comparative Economic Systems, Foreign Ownership Restrictions and Liberalization Reforms, Reengineering to Compete: Canadian Business in the Global Economy, and Cases in the Environment of Business: International Perspectives.
Useful for Understanding of:
The reasons for US Financial Crisis
The implications for developed and developing countries
The efficacy of Bailouts
The role of Governments in the post financial crisis
The major business trend in the post financial crisis
| | |
| --- | --- |
| Originally Published in | Effective Executive, IUP |
| Global CEO Reference No. | 03M-2010-01-13-06 |
| IBSCDC Reference No. | INT0120 |
| Year and Month of Publication | January 2010 |
| Keywords | David Conklin, Government and Business, US Financial Crisis, MBA, Bank Bailouts, Kenyesian Economics, Investment Banks, Capital markets, Capital markets Regulators, Sarbanes Oxly |
Related Links
Books by David Conklin
David Conklin's weblinks
Related Case Studies
Ad