Browse Executive Interviews
Subject wise
Publishing Year
Publishing Year
Interview with Aneel Karnani on Bottom of the Pyramid
November 2008 - By Dr. Nagendra V Chowdary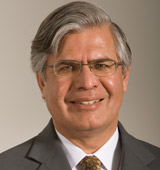 Aneel Karnani is a member of the Strategy group at the Ross School of Business, The University of Michigan. Karnani's interests are centered on the basic question in strategic management: why do firms succeed? He focuses on how to create sustainable competitive advantage and strategies for growth. He is also interested in global competition, particularly in the context of emerging economies. He studies how local companies can compete against large multinational firms, and how multinational firms can succeed in unfamiliar markets. Another current research interest of Karnani is the role of the private sector in poverty reduction.
He works with several companies to design and deliver executive development programs. He is also actively involved in consulting on strategic planning process, and strategy analysis and formulation. A graduate of Harvard Business School's doctoral program, he has been a visiting faculty at several universities worldwide.

Useful for Understanding of:

BOP markets and their unique characteristics
BOP markets fad or big marketing opportunities
What organisational changes are required for MNCs to tap BOP markets
Unintended consequences for MNCs in serving the BOP markets
Risk and challenges serving the BOP markets especially for theMNCs.
| | |
| --- | --- |
| Originally Published in | Effective Executive, IUP |
| Effective Executive Reference No. | 03M-2008-11-15-06 |
| IBSCDC Reference No. | INT0019 |
| Year and Month of Publication | November 2008 |
| Keywords | Aneel Karnani, BOP markets and their unique characteristics, BOP markets fad or big marketing opportunities, What organisational changes are required for MNCs to tap BOP markets, Unintended consequences for MNCs in serving the BOP markets, Risk and challenges serving the BOP markets especially for theMNCs |
1. Bottom of the Pyramid Consumers Case Study
2. ICMR Case Collection
3. Case Study Volumes