Browse Executive Interviews
By Subject
Publishing Year
Publishing Year
Interview with Amitabha Sadangi on Social Entrepreneurship
May 2010 - By Syed Abdul Samad and P.Girija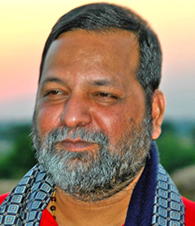 Amitabha Sadangi was born in a village in Orissa. He holds a Postgraduate Degree in Labor and Social Welfare and a degree in Law. He worked with agencies, such as CASA, Oxfam and while working for Oxfam, he sharpened many of his ideas around market-based programs for poverty alleviation.
"During my growing up years I realized the importance of water in a farmer's life. Inability to access water can change the course of a farmer's life and even prove fatal", says Amitabha.
In response, Amitabha established International Development Enterprises India (IDEI). The organization has developed low-cost water lifting and water application technologies called the Treadle Pump and the Drip. The technologies are not given away to smallholder farmers for free but are sold through a string market based approach that has a network of manufacturers, dealers and installers.
Together, the treadle pump and the drip system, are being used by over 1 million smallholder farmers and they are making an additional US$400 every year with cumulative farmer earning's of over US$1 bn over 15 years. This change in the financial situation has farreaching ripples in the lives of these farmers that range from their children accessing education and improved nutritional intake among others. Further, the technologies have led to saving water worth 3 billion cu mtr, diesel savings worth 533 million litres, electricity 417 million kWh and carbon emissions to the tune of 1.8 million tCO2eq.
Amitabha's efforts in the development sector have won recognition from many organizations, including the Ashden Award for Sustainable Energy 2006, Ashden Outstanding Achievement Award for Sustainable Energy 2009, Schwab Fellow of The World Economic Forum 2008, Skoll Award for Social Entrepreneurship 2005, Templeton Freedom Prizes for Social Entrepreneurship 2005, Ashoka Changemaker Award 2006, Fellow World Technology Network under Social Entrepreneurship category, 2004, and Tech Laureates, 2004 (under social development category), by Tech Museum.
But Amitabha is not resting yet as he is passionate about the issue of water and poverty and believes there is so much more to be done. Living in a country of more than 1 billion inhabitants, of which more than a third are very poor, he set his sights on helping 25 million more people in the next 10 years in India as well as Africa. He may not know exactly how to do that now, but chances are he'll figure it out.
Amitabha Sadangi is the CEO of International Development Enterprises India (IDEI).
Useful for Understanding of:
Social Entrepreneurship in India
International Development Enterprises India's (IDEI) Business and Operating Model
How Social Innovations are helping marginal/subsistance Indian farmers
Challenges in running a Socially Relevant Enterprise
| | |
| --- | --- |
| Originally Published in | Effective Executive, IUP |
| Effective Executive Reference No. | 03M-2010-05-13-06 |
| IBSCDC Reference No. | INT0128 |
| Year and Month of Publication | May 2010 |
| Keywords | Social Entrepreneurship, Social Entrepreneurship in India, Social Entrepreneurship in Emerging Markets, International Development Enterprises India (IDEI) , Amitabha SadangI, irrigation systems in India, marginal farmers in India, sustainability, social innovations, water levels, global water levels |
Related Links
Amitabha Sadangi's weblinks
Related Case Studies
Ad